Abdulai Mansaray.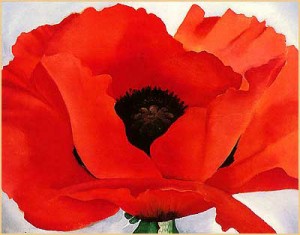 The world is facing an economic tsunami of apocalyptic proportion, with a potential for a second recession that might descend into a depression. The Arab region is undergoing a political metamorphosis. The European currency and Dollar are fighting to keep any semblance of a legal tender. Like the Arab Spring, a political sea change has seen two heavy weights in Silver Berlusconi and George Papandreou change their job descriptions. But unlike the Arabs, the European version of political was economic; and not a single bullet was shot in anger. But while the world has been gripped by the uncertainty of economic breakdown, England and its home nations have been dogged by a gigantic problem: to wear or not to wear a poppy, in a friendly football match with the world champions Spain. By all accounts it has been an emotive subject for all concerned.
In the blue corner, England sees it as a fitting gesture of gratitude to all those men and women who laid down their lives in the two world wars. You cannot argue with that, as the world will forever remain indebted to those brave men and women. They are the reason why we enjoy the kind of peace, tranquillity and civility that is alien to a lot of societies around the world. It is difficult to imagine what the world would have been like, had it not been for their bravery. Such selfless sacrifices should never go unnoticed; and England has every right to commemorate this epoch changing moment. Sacrifice is the pinnacle of patriotism; but paradoxically one must become the enemy of the rest of mankind to be a good patriot.
The past few days have seen a lot of ramblings between FIFA and England because the latter had requested to emblazon the poppy, which has become the symbol of the world's gratitude, on the shirt of the footballers for the friendly matches this week. It cannot get any bigger than playing against the current world champions. FIFA bans political, religious or commercial messages on shirts. The only deity that FIFA worships is those of sponsors, who have the omnipotence to not only own match schedules, the teams, players but also the beautiful game. FIFA sees the use of the poppy on the shirts as political; considering that the wars were fought on political grounds. This is where patriotism becomes the willingness to kill and be killed for even the most trivial reasons. But our obligations to our country never cease but with our lives; seem to be the chorus line.
In the blue corner, England and the home nations differ in persuasion. It is seen as a moral right and in some cases a privilege to be able to commemorate the lives of those who fought for the freedom we all cherish and enjoy today. With FIFA in the red corner and not willing to break its rule, citing that all FIFA related activities should maintain neutrality, (bar sponsors); the stage was set for another mudslinging duel between two giants of the football kingdom. The two sides could not see eye to eye on the issue. This is not the first time that FIFA and the FA have fallen out.
As recent as a year ago, FIFA was castigated as anti-English after England lost the bid to stage the 2018 World Cup. The ramifications were earth shattering as accusations and counter-accusations became a common currency between the two. England even had to summon political heavy weights like the Prime Minister David Cameron, sports personality David Beckham and a royal ascent with Prince William to lobby for the right to stage the contest but failed. England is second time lucky; it became a parliamentary discussion and Prince William weighed in by expressing his disapproval of FIFA's initial refusal.
The world can now breathe a sigh of relief as both sides have found a "sensible solution" to the impasse. England and its Home Nations have been allowed to wear poppies on black armbands during the upcoming internationals. In anybody's book, these sounds like a sensible compromise and the world can go back to dealing with the lesser problems like the economy, famine, wars, democratisation and Arab reconstruction. The subject of this poppy love has further generated different fans for both camps. The Normandy Veterans Association understandably condemned FIFA for refusing to allow England to display the poppy on their shirts. Its general secretary, George Batt "thinks that FIFA's behaviour "is a bit childish because, if it wasn't for us blokes, FIFA wouldn't be here"; an allusion to the English as inventors of the beautiful game.
The argument has taken so many different persuasions; and in most part has a ring of jingoism attached to it. An FA spokesman said: "The FA is proud of our armed forces and we are only too pleased to recognise those that have sacrificed their lives for the nation". The English Defence League went as far as having a protester on FIFA's roof. Harry Redknapp, the Tottenham Hotspur manager even described the compromise decision as "ridiculous". Well such remarks wouldn't do any harm on someone's CV, especially if you are tipped as the favourite to become the next England manager.
The irony is that the poppy is worn as a symbol to commemorate the peace agreement that ended World War 1 in 1918. Football has been and can be used as an instrument of peace. Unfortunately, both symbols of peace have been in disagreement over the commemoration of an agreement. Ironically, sport plays a societal role in engendering jingoist and chauvinist attitudes, because it can appear as designed to organise a community that is committed to worship gladiators. The commemoration of this day is universal and FIFA, with its 208 membership is global. On the one hand, England and its Home nations take a national decision to celebrate a global commemoration, while FIFA regulations are designed to maintain neutrality in a global community. The stage is therefore set for a collision cause.
While many in the blue corner will see FIFA's stance as a blatant affront to their nationalism and patriotism, those in the red corner of FIFA will see it as a matter of principle for a wider footballing community. When each nation feels superior to others, it breeds patriotism; the bedrock of wars. This sounds like a custody battle between the natural and adoptive parents of football. England will feel like the natural parent of football with paternal rights while FIFA is the adoptive with legal rights. I don't mean to trivialise this momentous occasion but can't help being that simplistic.
In England, there is a silent minority that is proud of its patriotism but at the same time supports the FIFA position. It is well and good to undertake some nationalistic or patriotic chest beating. "As a multinational organisation comprising over 50 nationalities, it will become very difficult to break a universal rule on behalf of one segment of the organisation. There is no running away from the fact that in spite of its historical significance, there are still political rings to it. As a result of the loss of lives involved, it makes it doubly emotive. It is within this fog of emotion that FIFA's principle has been lost on many.
Now that FIFA has allowed the FA a compromise deal to wear a poppy on armbands, a precedent has been set. Those who opposed the idea may be worried rightly or wrongly where this will end. Will this open a can of worms? What will happen if South Africa decides to mark the end of apartheid with an image of the legendary clenched fist on their shirts, or some South American country requesting to use the picture of Che Guevara? I can't wait to see my African brethren asking to put on massive "bling bling" chains round their necks to mark the end of slavery.
Jingoism, racism, fear, religious fundamentalism are all ways of appealing to people if you're trying to organise a mass base of support for policies that are really intended to crush them (Noam Chomsky). The popularity of the poppy seems to be relatively diminishing in some societies. Perhaps it is time we etch it back on the psyche of the young, the facebook and tweeter generation. If any force can do that, there is no better sport to do so than Football. Back in the day and as a child growing up in Africa, we used to be supplied with the poppy in schools for free. With no questions asked, we wore them with pride and without the foggiest idea of why we did so. There you have it; the beauty of childhood.
Don't forget to turn the lights out before you leave the room.