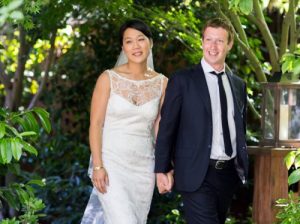 A day after his social media company went public, Facebook co-founder and chief executive Mark Zuckerberg married his longtime girlfriend Priscilla Chan on Saturday.
The news was announced nowhere else but on Facebook.
"Mark added a life event to May 19, 2012 on his timeline: Married Priscilla Chan," the page's activity feed said. Zuckerberg, 28, posted a simple wedding photograph, showing the couple against a backdrop of plants and small lights on a string.
Both he and Chan also updated their relationship status to "married." Zuckerberg ditched his trademark hoodie, appearing in a dark suit and tie, while Chan wore a sleeveless white wedding dress with lace.
The pair met during Zuckerberg's sophomore year at Harvard University, where he first nursed Facebook as a dorm-room project. Chan graduated this year from medical school at the University of California, San Francisco, according to her Facebook page.
The marriage comes just one day after the company, based in California, made its market debut.
Its initial public offering was the biggest opening ever for a tech company and the third-largest IPO in U.S. history, behind only Visa and General Motors.
Source: CNN