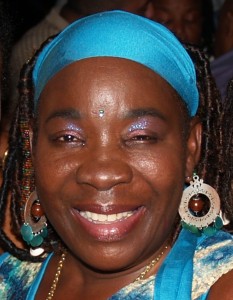 HONORARY CITZENSHIP GRANTED FOR PHILANTHROPIC EFFORTS AND SOCIAL CONTRIBUTIONS
Los Angeles, CA (July 29, 2013) – In August of 2013, on Ghana's Emancipation Day, the country will recognize an icon of the Diaspora, Nana Rita Marley, widow of the late superstar, Bob Marley. This historic event will take place at the nation's annual Golden Jubilee celebration of OAU/AU and the Pan-African History Festival (PANAFEST), wherein Sister Rita (Nana Afua Adobeya1) will be granted honorary citizenship of Ghana along with a Ghanaian passport.
In the words of H.E. Dr. Erieka Bennett/ Head of Mission, AU Diaspora Africa Forum, "We are thrilled to see the Ghana government recognizing the tremendous contribution Nana Rita has made to Ghana socially as well as economically. This is a historical day for those of us from the diaspora. Congratulations to our beloved Nana Rita Marley!" Adds H.E. Ambassador Kwesi Quartey, Deputy Minister of Foreign Affairs and Regional Integration, "Indeed Mrs. Rita Marley continues to leverage her unique name recognition to showcase Ghana and talk up Ghana's pan-Africanist role and tourism potential at every opportunity."
50 years after Dr. King's "I Have A Dream" speech and the passing of Dr. W.B. DuBois, and more than 32 years after the passing of her husband, the Honorable Robert Nesta Marley, Mrs. Marley has now accomplished the main part of their dream: returning to Africa not as slaves, but to give back to the less privileged.
ABOUT RITA MARLEY
The talented Rita Anderson was born in Cuba and raised from an early age in Trenchtown, destined to become the matriarch of the musical Marley family. Now, for over 30 years, Rita Marley has been a principal figure on the music scene and has maintained a prominent role.
Mrs. Marley has worn many hats to manifest her continued commitment to her husband Bob Marley, her family and her people, as well as to fulfill her mission to enlighten, educate and entertain through her music. She is the benefactor of many humanitarian causes and the Rita Marley Foundation. RMM's operations are based on the principles of love and compassion, with its work geared towards the alleviation of suffering in less fortunate communities.
Establishing a second home in Ghana in 1993, she began the task of working with the local Elders and Chiefs towards the provision of a road, a water supply and electrification. An on-going task since then is the development of the school and the health care center. Today, she continues her mission of sharing, caring and working together with all Africans, supporting activities in Kenya, Ethiopia and Jamaica. Learn more at: http://ritamarleyfoundation.org/