Dennis Kabatto, CEN, USA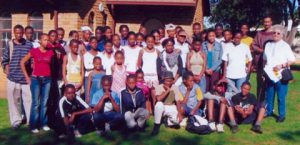 Harlem, New York. Friends of Teboho Trust Inc., (FoT) are on a mission to empower and and save lives.
The mission of Friends of Teboho, Inc., a U.S. incorporated non-profit composed of business leaders, academics, arts administrators, health care specialists and legal counsels, was established to work in partnership with organizations and individuals to promote personal empowerment, social development, educational support, wellness and economic development that fosters sustainability in a global environment. FOT chose to launch this mission by providing technical assistance and resources for Teboho Trust in Soweto, South Africa.
In order to accomplish its mission and provide direct assistance, FoT is announcing its 1st annual fundraising event for Teboho Trust. Teboho Trust is a community organization based in Soweto, South Africa that empowers vulnerable, orphaned at-risk children and adolescents to reach their fullest potential. (Visit: www.tebohotrust.org.za)
The event will take place on Sunday, November 6, 2011 at 100-1/2 West 130th Street in Harlem, NY from 3pm to 6pm. Light hors d'ouevres, vin…tage South African wines, many unique silent-auction items and special guest appearance to be announced.
According to Desiree Urquhart, a member of the board of directors of Friends of Teboho, Inc for a year and currently Director of Government and Community Relations at Arena Stage, the preeminent regional theater in Washington, DC, " I first learned of Teboho Trust in 2005 while visiting a Zulu family in South Africa that hosted me during my six-month study abroad experience in Durban in 1998. "
Ms Urquhart also disclosed that "Ironically, from 2005 to 2008, I met other African -Americans around the United States who knew Jose and of his work at the Trust.. Ultimately, these 'Friends of Teboho' decided to incorporate to help facilitate our desire to fundraise for a cause in which we all believed."
FOT's financial goal for the event is to raise $10,000, in addition to secure commitments to provide in-kind services on the ground, to invite groups to visit the Trust as part of a social consciousness to eco-tourism, and/or to encourage new friends and supporters to send much needed items such as school supplies and clothing.
Founded by Jose Bright, an American ex-patriot who has devoted his life to helping these vulnerable youth develop individual road maps and strategic plans to realize their dreams for a better and brighter future, the program now services over 200 youth annually and has a standing wait-list of over 200 eager students.
Amongst the key organizers of the Harlem fundraiser is FoT board member Yetunde A. Odugbesan who is also a Speaker, Entreprenuer, TV/Radio Personality, Humanitarian, Scholar and Writer
Born and raised in New Jersey, Yetunde A. Odugbesan, is currently a Ph.D candidate at Division of Global Affairs Rutgers University in New Jersey, where she is working towards obtaining her doctoral degree in Global Affairs. She is a graduate of the United Nations Worldview Institute, an executive training program for business executives and young professionals in the field of Global Business and International Affairs.
She is also a graduate of the Eagleton Institute of Politics. She received her master's degree in Global Affairs from Rutgers University in May 2011. She received her bachelor's degree in Journalism and Media Studies and a double minor in Organizational Leadership and Africana Studies from Rutgers University in May 2009.
Yetunde's doctoral research focuses on corruption and its effects on governmental trust and performance in both local and state government. Her research interests include government transparency, public trust, ethical leadership, human rights, economic development, public policy and social entrepreneurship.
During her first year in her graduate program, she was integral in bringing the first seminar to Rutgers Institute on Corruption Studies (RICS). The seminar entitled, "Challenging Corruption: Proactive Responses to Criminal Conduct," which brought together leading experts from FBI, World Bank, United Nations, Transparency International, and various universities, to discuss ways to create preventative programs that would stem the growth of corruption in state government.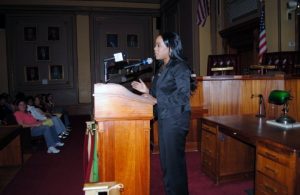 Yetunde has worked on creating various conferences, lectures and symposiums on counter-corruption and ethical leadership.
She took time out of her hectic and swamped schedule to conduct this interview.
DK: You are a board member of Friends of Teboho Trust (FOT), when and how did you become a board member and what are your responsibilities and contributions as a board member to the organization? Are there any other boards, memberships or associations you are part of?
YAO:I was selected and voted unto the Board in May of 2011. My responsibilities are but not limited to handling all monetary aspects for FoT in the form of a treasurer, creating partnerships with organizations, universities and young professionals, raising resources for FoT, strategic communications and development for FoT. I am a member of Young Professionals in Foreign Policy, United Nations Association of New York, Young Professionals for International Cooperation, Global Women Leadership Collaboration, Committee Member for Rutgers University Presidential Search and member of Eagleton Institute of Politics Alumni Committee. I also volunteer as a mentor coach for numerous organizations.
DK: Is there any relationship with you becoming interested in Teboho Trust and your trip to South Africa with the Rutgers South Africa Initiative organization?
YAO: Yes, during my trip to South Africa in 2009, I visited Teboho Trust, met the children and founder, Jose Bright. It was such an emotional and reflective experience for me. I sat down, talked and played with kids who were going through extremely difficult situations. Most of their parents have died from AIDS, many of them who are under 15 years old who are taking care of their of siblings–yet they were still happy, full of joy and still smiling. So, leaving back to America was extremely difficult for me because I wanted to do more- I needed to do more. Before, I left South Africa I prayed to God to use me to help the children of Teboho Trust and I am happy that my prayer has been answered. Being a board member provides me with the position to create real impactful change on level that I am satisfied with.
DK: Tell us more about the upcoming November 6th FOT fundraising event in Harlem, what are your organization's goals and what do you hope to achieve with the upcoming event?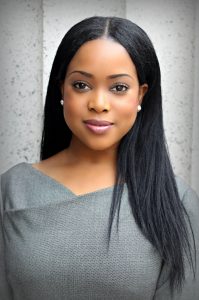 YAO: On November 6, 2011, Friends of Teboho, Inc., will be having its 1st annual fundraising event for Teboho Trust. Teboho Trust is a community organization based in Soweto, South Africa that empowers orphan and at-risk children to reach their fullest potential. (Visit:www.tebohotrust.org.za) Our goal is to raise awareness and resources for the children of Teboho Trust in South Africa and to create partnerships with universities, corporations, NGOs, professionals and more.
The event will take place on Sunday, November 6, 2011 at 100-1/2 West 130th Street in Harlem, NY from 3pm to 6pm. Light hors d'ouevres, vintage South African wines, many unique silent-auction items and special guest appearance to be announced. We look forward to the support of people and working with those who have a passion for giving back. However if some are unable to attend, their donation in any amount can be mailed to the following address: Friends of Teboho, Inc. c/o Lorna K Johnson 320 S. Harrison Street, Suite #16C, East Orange, NJ 07018
"Teboho" is a SeSotho name given to a child at birth that says, 'Thank you God for giving us this beautiful gift.' I and the rest of the FOT board members thank you for your support as we work to help these "beautiful gifts" reach their fullest potential.
DK: Let us talk more about your background, obviously your name Yetunde Odugbesan sounds Yoruba, are you a Nigerian or what is your African heritage?
YAO: Yes, I am Yoruba. My parents are from Nigeria, West Africa. Specifically my mom is from Abeokuta and my dad is from Ibadan. I was born and raised in the US. And I am extremely proud to be a Nigerian-American.
DK: You seemed to be very passionate about youth empowerment in general, particularly young women. And as a member of Global Women Leadership Collaborative (GWLC), you traveled to Nigeria with a distinguished delegation of New Jersey city and state government officials to advocate for youth development and leadership empowerment as well as to foster partnerships with women government officials in Nigeria and throughout Africa. You were even hosted by the 1st Lady of Nigeria, Dame Patience Goodluck Jonathan and Chair of Diaspora Affairs Hon. Abike Dabiri-Erewa. Yetunde met and spoke with various top government leaders in Nigeria. What was the outcome of that Nigerian trip?
YAO: That was an amazing and powerful trip with great outcomes. The delegation consisted of seven women including myself who represented various areas that reflected each of our expertise and profession. Such areas that were represented were health, disability and social service initiatives, education, youth empowerment and more. I represented youth empowerment and specifically working on projects that will foster leadership exchanges with young leaders in Nigeria and here in the diaspora. During our trip, GWLC donated over $100,000 worth in materials to the School of Blind in Lagos, Nigeria. We met and spoke with various woman Political Leaders, Ministers and Government Officials for leadership exchange and collaboration. We met with the Governor of Lagos State, Babatunde Raji Fashola to work on creating a Sister-City Initiative with the City of Newark in US. We also met with Minister of Woman Affairs, Iyom Josephine, Minister of Information and Communication, Dr. Dora Akinluyi and others for leadership collaborations. We are now in the works of bringing 20-30 women government leaders from Nigeria to United States with the partnership of Abike Dabiri-Erewa, Chairman of Diaspora Affairs-Nigeria in 2013. Our purpose for this endeavor is to create a three-day summit in which women leaders from Nigeria and those here in United States will be able to meet, dialogue and exchange solutions about many global issues that affect our communities.
Global Women Leadership Collaborative (GWLC) is an organization that seeks to provide a forum for African American women leaders of New Jersey to engage in a global dialogue with other women from around the world and the United States through providing insights to effective change in their own communities and or professions. Our goal is to continue to provide a forum for African American women leaders of New Jersey to engage in a global dialogue with other women from around the world and the United States through providing insights to effective change in their own communities and or professions.
DK: Do your friends or acquaintances sometimes call you an over-achiever? From your photos, you seemed very young to be a Ph.D candidate at Rutgers. Kindly, let us in on your academic adventures?
YAO: Yes, I am proudly known as, "The Over-Achiever." I, honestly think I was born this way. Ever since I was little–I have always been active, always doing one thing to another, always pushing the limit…that's who I am, its innate, it's my identity. I have been through school non-stop. From pre-k to 12th grade, from college to my graduate studies with no breaks. I went to St. Mary's of the Assumption HS in Elizabeth, NJ and graduated in 2005 with honors. During my high school years I was the President of Student Government, Student Ambassador, Captain of Varsity Cheerleading, and Founder of the Poetry Club and featured in Who's Who amongst High School Students in 2005. I graduated with my BA in Journalism and Media Studies with a double minor in Africana Studies and Organizational Leadership in 2009 from Rutgers University with honors. During my undergraduate years, I was the President of Rutgers University School of Arts and Sciences Chi Alpha Epsilon National Academic Honor Society, a Ronald E. McNair and Minority Academic Career Fellow and Scholar, Rutgers Emerging Leader Scholar, and interned at league of distinguished places including the Office of Mayor Bloomberg Commission to the United Nations, Global Partners Project.
I started my MS/PhD program in Global Affairs right after my BA graduation in 2009. During my MS portion of my program I was a distinguished Eagleton Institute of Politics Fellow and served at the New Jersey State Ethics Commission. I was the Assistant Editor for Public Performance and Management Review (PPMR), a leading peer-review academic journal that addresses a broad array of influential factors on the performance of public and non-profit organizations. I was also the President of Rutgers University Student Association of Global Affairs and Vice-President of Rutgers Graduate Student Government Association. I am involved in the Clinton Global Initiative (CGI) Annual & University Meetings. Before my involvement with CGI, I was selected to attend a meeting for Young Leaders in Miami, Florida where she personally met President Bill Clinton.
I graduated with my masters of Global Affairs in May 2011 and continued on into the PhD program. I have finished all my coursework for my Ph.D. and now working on my dissertation. I am 24 years old and I am ABD in my Ph.D. program. I always knew from a very young age that I wanted to go further in my studies. Education has always been a priority for me and in my household. More so it has always been my own priority. I set the standards very high for myself and I am satisfied with what I have done with my life so far and eager to accomplish the next goal at hand. When you are focused, determined, faithful, obedient to your calling and steadfast in your walk–everything and anything is possible. There is no limit.
DK: What is your dissertation topic and research interest, and what criteria did you use to choose your advisor and committee? The second part to the question is writing a dissertation normally marks the transition from student to scholar, it is a self-directed process, no weekly deadlines from professors, no regular discussions with classmates, no reading assignments, no one telling you what to do–you are on your own, writing something longer than you've ever written, and doing it without a net. Do you find the process intimidating? If not, why not?
YAO: My proposed dissertation will focus on corruption and its effects on governmental trust and performance in both local and state government in Nigeria, West Africa. In addition this study will highlight the effect that political and public sector corruption, have on governmental performance and the existence or non-existence of social services being delivered on the local level. My research interests are government transparency, public trust, ethical leadership, human rights, economic development, public policy and social entrepreneurship. I chose my advisor and committee by three criteria, their knowledge and expertise in the field, their commitment to assisting me on this endeavor, and their individual work ethic. The process of writing a dissertation takes a lot of self-discipline. My experiences and work ethic is what keeps me focused and diligent. The process can be intimidating but it is also worthwhile. With the right support system and resources–I believe this will be a rewarding experience. I've had a lot of preparation before embarking on this step, so I am confident in my ability to produce good scholarly work.
DK: You are currently the CEO of Yetunde Global Consulting (YGC), specializing in developing leadership competencies, organizational management and development for executives, young professionals, and budding entrepreneurs and firms. How do you joggle being a young professional, entrepreneur and a Ph.D. candidate writing a dissertation?
YAO: Yes, Yetunde Global Consulting provides leadership development for professionals and organizations. Readers can visit www.yetundeglobalsconsulting.com for more information. I can do all things because I love what I do and I strategize and plan accordingly. Everything I do and commit myself to is because of my love for it. I am a passionate person who believes in my gifts and chooses to work hard to see my dreams come into fruition. Two things that have helped me to effectively perform in all the roles that I play are time management and balance. Time management is a crucial skill to develop. I am able be an entrepreneur, Ph.D Candidate, member of various boards, writer, public speaker and more because of my passion and dedication and also knowing the importance of managing my time effectively and making sure I prioritize. By setting priorities for yourself, you are able to put your energy and focus your attention on the task at hand. Secondly, finding balance is extremely important. One must always assess every area in one's life to make sure it is given equal or more attention. I think that I have a well-rounded life and done a great job balancing my personal, professional and academic life. Last but not least—when you have a passion and drive that is unquenchable–you are able to do more than you ever envisioned for yourself. For me, I think this is only just the beginning–I know there is more in store. God willing.
DK: Your passion for excellence, results for change, leadership and politics began at a young age, and it has made you a sought after motivational speaker and leadership consultant, what inspired you at such an early age and also what continues to motivate you?
YAO: My Christian faith has been a major driving force for me. It has provided me with the power, strength, favor and grace to accomplish all the goals set before me. I always remind myself that, "It's not by my might nor by my power but by his spirit." My upbringing has also played a crucial role, I've been bless to have such wonderful and supportive parents and an older brother who I admire deeply. I make sure that I surround myself with positive and like-minded people who are going to motivate me and push to higher levels. And also my background, my parents came from Nigeria to US about 25 years ago…and it's their sacrifice to provide me with a better life that continues to motivate me. I have been blessed to come across people who have supported, motivated and helped me reach to where I am now, so it is my duty and responsibility to pay it forward. I want to make my family, my community, The United States of America and Nigeria proud. I want to make sure that my life contributes to the betterment of humanity.
DK: So, I will be remiss if I do not ask you about your hobbies and stuff that you are passionate about?
YAO: I love to write, In 2008 I developed "Putting Your Best Self Forward," a website dedicated to empowering young men and woman to be great leaders, readers can view it by visiting www.yetundeodugbesan.com and by clicking the PYBSF link. I also co-authored a book titled, "A Call to Serve: Quotes on Public Service," to foster a spirit of service and civic engagement and to encourage more people to public service. I am an avid book reader; I read many autobiographical books, self-help and spiritual books…I look forward to writing my next book. I also like watching documentaries, going to see plays and traveling. I am very much a lady so I take pleasure in beauty and fashion. My favorite musical artists are King Sunny Ade and Lauryn Hill. I am extremely passionate about woman and youth empowerment, leadership development, public speaking, and motivating others to be their best. My whole life is a reflection of the many passions that I have.
DK: Are there any final thoughts or parting shot about Yetunde Odugbesan that you want to leave with the readership?
YAO: Yes! I have a quote that I live my life by and I believe will be a source of empowerment and inspiration for those reading. Marianne Williamson said it best, "We ask ourselves, who am I to be brilliant, gorgeous, talented, and fabulous? Actually, who are you not to be? You are a child of God. Your playing small does not serve the world. There is nothing enlightened about shrinking so that other people won't feel insecure around you. We are all meant to shine, as children do. We were born to make manifest the glory of God that is within us. It's not just in some of us; it's in everyone. And as we let our own light shine, we unconsciously give other people permission to do the same."
YAO: To book Yetunde Odugbesan as a public/motivational speaker visit: www.yetundeodugbesan.com or email yetunde.ao@gmail.com
I encourage everyone to live out their dreams, make a difference, stay grateful and leave your mark on the world. Every day you should always ask yourself, "What will the world remember me by?
DK: Thank you for your time.
YAO: Thank you.