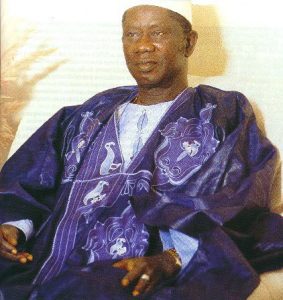 Benny Steinmetz acquired half of the iron deposit underneath the Simandou mountains in Guinea in 2008. Simandou is one of the richest concessions in all of mining. It is said to hold more than 26 billion tonnes of high grade ore worth more than $50 billion to whoever is granted the licence to mine it.
Simandou has already brought Steinmetz vast wealth — he got half of the total concession area for nothing. Zero.
His BSG Resources — spun out of the Steinmetz Diamond Group the young Benny inherited from his father Rubin — was awarded the rights days before the death of Guinea dictator Lansana Conté
His BSG Resources — spun out of the Steinmetz Diamond Group the young Benny inherited from his father Rubin — was awarded the rights days before the death of Guinea dictator Lansana Conté.
Conté had not long before stripped the Simandou blocks from Rio Tinto, which had held the exploration rights since the 1990s.
Steinmetz claims to have invested $160 million to develop Simandou and the nearby Zogota deposit, but had a huge pay day in 2010 when BSGR sold 51% of its stake to Vale for $2.5 billion.
To put that into perspective, the Guinean government's entire annual budget in 2010 amounted to just $1.2 billion despite the country being the world's number one miner of bauxite, used to make aluminum.
After forking out the first $500m the Brazilian giant has now stopped making payments to Steinmetz and has frozen work on the project altogether.
Probably a wise move by Vale considering that BSGR is now the subject of a US investigation under the Foreign Corrupt Practices Act.
The FBI probe has uncovered all sorts of shadowy dealings including a $2 million payment to Conté's fourth wife Mamadie Touré (her brother Ibrahima Sory Touré was a VP for BSGR in Guinea) to help advance the Steinmetz cause.
Ibrahima Sory Touré and another BSGR employee Issaga Bangoura were arrested in Guinea's capital Conakry in April as part of the probe. Earlier French citizen Frederic Cilins and BSGR's agent in the country was arrested in Florida for tampering with evidence – that is, destroying documents relating to the Steinmetz-Conté deal – and improperly influencing witnesses.
Steinmetz certainly has friends in high places
The Israeli billionaire has called on none other than ex-UK prime minister Tony Blair to intervene and rescue Touré and Bangoura from the "appalling conditions" they are held in. No word yet if Blair has managed to help out.
Cilins has also been denied bail in the US because he's a flight risk.
Steinmetz has also leveraged his diamond business in Guinea. One of the more banal allegations that has surfaced is about a diamond and gold laden model of a Formula One racing car given to a minister of the former French colony to grease the Simandou wheels.
The Steinmetz Diamond Group is a sponsor of the McLaren racing team which on occasion sported diamond-encrusted steering wheels at the Monaco Grand Prix.
First came to prominence after Angolan rough supply and Russia deals
The Geneva-based Steinmetz Diamond Group has a long history in Africa and first came to prominence after tying up Angolan rough supply and making deals with Russia under De Beers' nose.
But now Steinmetz's dealings in Africa – he's also in bed with fellow Israeli mining middleman Dan Gertler in the Congo – has also come under intense scrutiny from human rights organizations.
Global Witness has uncovered some damning video of a BSGR investment presentation in September 2006 which shows Cilins and the Tourés mixing business and pleasure.
Steinmetz has also been gunning for another NGO, Revenue Watch, an organization backed by billionaire George Soros which is helping current Guinea president Alpha Condé rewrite the country's mining code and review old contracts.
Steinmetz sued Mark Malloch-Brown, a former British government minister who is close to Soros and was vice chairman of his investment funds, for breach of contract and sharing confidential information on BSGR with Soros in Britain's High Court.
Steinmetz scores an early legal victory
On Monday Steinmetz scored an early legal victory after Lord Malloch Brown's consulting firm was ordered to pay BSGR $120,000 plus legal costs to settle the dispute.
All along BSGR has steadfastly denied any wrongdoing, calling the allegations baseless and the current Guinean government illegitimate.
Vale, for its part, denies any knowledge of BSGR's dealings.
Meanwhile Rio is staying committed to building a mine on its half of the concession and in April 2011 struck a deal with the Condé government, paying $700 million and granting the government a 35% stake to resolve all outstanding issues.
Rio Tinto in 2010 brought in Chinese investors and has so far spent more than $3 billion building open pits. At full production Rio's Simandou mine would export up to 95 million tonnes per year — that's a third of the No. 2 iron ore miner's total capacity at the moment — using a newly built 700km railway across the country. Rio says its on track for the first shipment of ore by mid-2015.
In the end a pragmatic solution would probably be found to move all of Simandou forward, it's just too valuable.
President Condé, a veteran of the opposition in the African nation which has struggled for decades under dictatorship and sometimes brutal military rule, has offered Rio a "strategic partnership for 50 or 100 years" and is also seeking a way for Vale to resume work at Simandou.
Whether Steinmetz will remain involved in Simandou or Guinea is highly doubtful and the US investigation may still snag him too.
Not that he doesn't have the means to continue to fight to clear his name. He's worth at least $4 billion at last count, but his fortune has also been estimated at more than twice that.
Frik Els
Mining.com