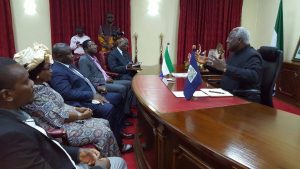 In a previous article, I implored Rtd. Brigadier Maada Bio to renounce violence in his name. Reports reaching most media outlets, especially those in the diaspora have contended that Maada's supporters, who are fondly called the "Benghazi Boys" appear to have usurped the SLPP mantle of power. The reports further indicated that aspiring flag bearers have been barred by the Maada brigade from accessing the main SLPP office in Freetown. It may have been difficult to authenticate these reports, but the violence that seemed to be associated with this group had only served as a PR disaster for the Maada Bio camp. It was against this background that some of us passionately asked Maada to renounce any hint of violence that was perpetrated in his name; " Maada Bio say it: Not in my name"( Critiqueecho,com 27/08/15). This was purely for the good of the country and nothing to do with any party affiliations.
Maada has just returned to Sierra Leone, from a 6 -month sojourn in the UK. According to reports, Maada is pursuing his PHD in Peace Studies; how apt. One of the first gestures he undertook was to visit the president, Ernest Bai koroma at State House; reportedly to express his gratitude and appreciation for the "good work" that the president has done in tackling the Ebola epidemic, among other things. Understandably, this gesture has drawn criticisms from some quarters, especially from his supporters. While some have seen this as a betrayal of trust, others have randomly criticised him as a "sell out" who appears to be angling for a lucrative position from the APC Party.
It must be said that those who condemned Maada for his gesture have not only been short sighted, but have also not taken into cognisance that   "The bedfellows politics make are never strange. It only seems that way to those who have not watched the courtship." The SLPP has always been roundly criticised and condemned for putting party politics above the country's interests. This has been seen as the Achilles heel of the party; and that it has been engaged in school playground politics at the expense of national interest. Now that Maada has taken a grown approach this time, by acknowledging the feats of the president, some people see it as wrong. It looks like Maada is damned if he does, and dammed if he doesn't.
In the interest of nationhood, there is nothing wrong with his gesture. Maada is part of the political opposition in our country, and as such should serve, like any other opposition member, as a barometer of public opinion and thermometer of society. The opposition should act as the referee of the political football match in our country. There is nothing wrong in him acknowledging the good or criticising the bad as and when required. In my book, it is called constructive criticism; to criticise when things go wrong and praise where praise is due. If that makes Maada guilty of "sell out", then count me in. I do not subscribe to any political party, but in the interest of nationhood, we should be able to see the wood for the trees.
Maada has reportedly been taking to the airwaves to promote his new look. He has also been reported to engage communities in the drive towards achieving a zero/ Ebola free zone. The photo opportunities showing an embrace with the president has not been lost on him. That should be commendable by any standards. This might come as a surprise that Maada appears to be hand in gloves with the government. Singing from the same hymn sheet with the government should not necessarily mean that he has thrown in the towel, or has been giving a carte blanche to the government with blind loyalty. If a cat sat on a pillar, does it become a caterpillar? Maada has been studying for his PHD in Peace Studies and perhaps, he is just putting his studies into practice. Opposition does not mean enmity. Machiavelli's teaching would hardly have stood the test of Parliamentary government, for public discussion demands at least the profession of good faith." and Maada has shown this in his latest gesture.
Those who feel that opposition is a synonym for war or enmity would be disappointed: tough. Sierra Leone needs a healthy and politically sanitised playing field for political discussion. If we don't believe in freedom of expression for people we despise, we don't believe in it at all.We cannot get anywhere or achieve anything if we aspire to be sworn enemies in our political aspirations. During one of his radio interviews, Maada emphatically condemned violence and preached the need for everyone to have equal access to the political platform. That is what some of us have been asking for all along. Those overzealous followers who have been crying more than the bereaved should now take caution and return to civil relations with political opponents; for those who know how to flatter also know how to slander.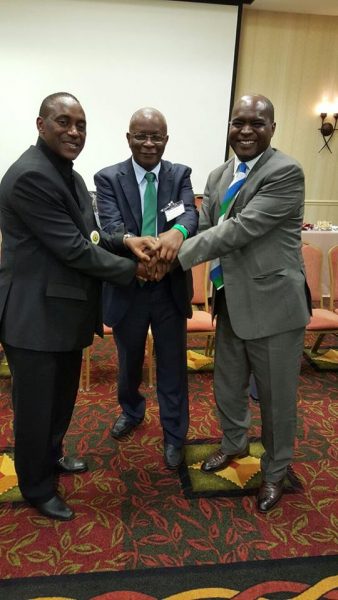 I recently saw a picture on Facebook where aspiring presidential candidates Ali Kabba and KK Yumkella were holding hands together in a show of unity. These men are aspiring for the same goals but such gestures should be seen as re-assuring; that in spite of their differences, there is unity in diversity. That can only be good for the political climate of our country.  As a nation, we have to remember that "elections are won by men and women chiefly because most people vote against somebody rather than for somebody." It is imperative that even in the face of differences; our leaders are seen as sharing similar goals for the good of the country. "The essence of a free government consists of an effectual control of rivalries." We need to understand that we are not each other's' enemies in our country. And it is only the political class that derives its power by creating friction. It is only the media that derives its importance by creating friction… and it uses every little thing to create this chasm between people. This is not who we are.
Many may see this approach by Maada as a change of tact. If this is for the good of our country, it can only be a welcome gesture. Maada should now embark on, and continue to preach his message of peace and unity. The notion of violence that is generated by the Benghazi Boys should be dismantled and confined to the political dustbin. Only God and fools don't change. Remember that the SLPP has as its motto: One People, One Country. This may sound like a new beginning, and a welcome one at that. Peace in Sierra Leone is everybody's business. The goal in the end is not to win elections. The goal is to change society.
Don't forget to turn the lights out when you leave the room.