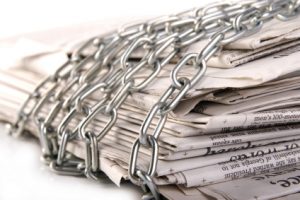 The Freetown Court No.3 on May 6, 2013, charged Kasho Cole and Ibrahim Samura, Managing Editor and editor respectively of privately-owned Prime Newspaper, on eight counts of offences including criminal defamation for allegedly publishing an article about Lawyer Adekule King, an employee of the National Petroleum Directorate.
The Court presided over by Magistrate Bankole Shyllon, however, granted the journalists bail in the sum of Ten Million Leones (about US$2,500) with one surety.
The Media Foundation for West Africa (MFWA)'s correspondent reported that Cole and Samura were charged after they had spent three days in detention at the Pademba prison in Freetown, the capital, following the Court's refusal to grant them bail on May 3, 2013.
Despite pleas for bail by counsel for the journalists on many grounds including the significance of May 3, World Press Freedom Day, Magistrate Shyllon refused.
According to the correspondent, before refusing them bail, the Magistrate rebuked the media, stating that he has in the past also been a victim of unfavorable media coverage by Paul Kamara, owner of For Di People newspaper and now Sports Minister in President Bai Koroma's administration.
Cole and Samura were arrested and detained on May 3, 2013, following a complaint filed against them by Lawyer Adekule King, a married man, accusing the two journalists of publishing pornographic pictures of him with a supposed girlfriend. The two are to reappear on May 15, 2013.
The MFWA hopes for a fair trial and pleads with Magistrate Shyllon not to let his past experience with the media, however negative, influence his ruling of the case.
Read the original of this report, with tables and illustrations where appropriate.