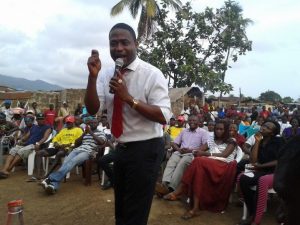 As debate on the issue of dual citizenship heightens, there have been questions on the citizenship of some presidential candidates aspiring for the presidency ahead of the 7 March 2018 general election.
Kandeh Kolleh Yumkella, flag- bearer of the National Grand Coalition (NGC) and Mohamed Kamarainba Mansaray, flag-bearer of the Alliance Democratic Party (ADP) are two of the presidential candidates in the midst of the debate.
Yumkella claimed he has denounced his American citizenship in 2017 but Mansaray said he has never held any other citizenship other than in Sierra Leone.
On Tuesday 16 January 2018, Mansaray, at his Rawdon Street office, explained series of procedures that one will undertake before acquiring citizenship of the United State of America. Though he did not produce any document to explain his status, Mansaray firmly noted that he was a holder of an American Permanent Resident (green card).
Asked about how he came to own properties in that country, Mansaray said with a Permanent Resident or Work Permit one can own properties in the States.
He also disclosed his annual income for the last five years of his stay in the States, from 2009 to 2013, which amounted to $639,429 USD.
He demanded that Yumkella produce proof to show that he has denounced his American citizenship before his nomination on Thursday.