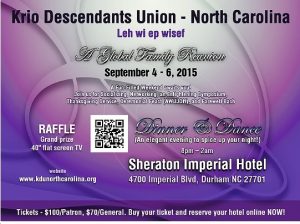 The Krio Descendants Union (KDU) will congregate in Durham, North Carolina this weekend with Krios, Sierra Leoneans and guests for a global family reunion.
This historic family reunion from September 4 – 6, 2015 comes five centuries after Sierra Leoneans first arrived in the Carolinas as slaves to work on rice plantations and as domestic servants.
"While we are thrilled and excited to be coming together again this weekend, we are mindful that our planned homecoming to Freetown last year was postponed because of the Ebola Virus Disease that killed and affected so many of our fellow Sierra Leoneans and we are extremely delighted that it appears we are finally seeing the last of this disease," said Melbourne Garber, Chair of KDU Global in a statement.
Mr. Garber said in accordance with KDU's mission their intention during the three day reunion is to "foster unity and enhance the collective activities of the respective chapters with regards to promoting and preserving the history, culture and heritage of the Krios of Sierra Leone through reflection, education, charitable giving and to pass on this culture and heritage to the younger generation."
The three day program includes a Meet & Greet evening of socializing and networking on Friday, September 4, 2015 at the Sheraton Imperial Hotel. On Saturday, September 5, KDU will host a symposium featuring The Akintola Wyse Lecture "Exploring the Krio Heritage and Culture."
An 'Awujoh,' a ceremonial feast in remembrance of our ancestors at Fred G. Bond Metro Park (Sertoma Amphitheatre) in Cary, North Carolina will precede a Dinner & Dance at the Sheraton Imperial Hotel.
The reunion wraps up on Sunday, September 6 with a Thanksgiving Service at Trinity United Methodist Church in Durham, NC followed by a Farewell Bash at Cary Senior Center in Cary, NC. Go to KDU's website for a complete program schedule: http://www.kdunorthcarolina.org/#!schedule/cz0w
"At the conclusion of this weekend, we hope to be re-energized, more cohesive and more determined to ensure we contribute to the post Ebola recovery of our country, the elimination of discrimination, tribalism and promotion of fairness and equality for all Sierra Leoneans, especially now that the constitution is being reviewed. Please join us for an experimental weekend," Mr. Garber said.
KDU, previously known as the Settlers Descendants Union was reestablished in 1990 to help unify the causes of the Krios. The organization has Chapters in Freetown, capital of Sierra Leone, London and six Chapters in the United States of America.