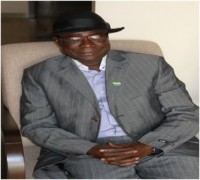 Information reaching CEN has confirmed that the Resident Minister of East, Hon. William Juana Smith (APC) has passed away at Choithram Memorial Hospital in Freetown. It must be noted that Honourable Smith declined several attempts made by this outlet over the past months to interview him regarding developmental issues of the eastern region including criteria used for the distribution of street solar lights in Kenema city. He constantly referred to a protracted sore on his leg which forces him to bed most of the time.
Honourable Smith died at the age of 70 and he was one of the most influential diehard members of the ruling APC in the eastern region.
May his soul requiescat in peace.