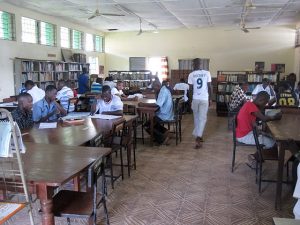 Chairman Board of Directors of the Sierra Leone Library Board has disclosed that the Kenema library, in the east of the country, has been rated top in terms of readership.
Professor Sahr Gbamanjah made the disclosure at the formal commissioning of the newly-refurbished Kissy library branch of the Sierra Leone library board in the east of Freetown.
He said the Kenema library had "an excellent readership", adding that in all of the time they had visited the library, students always engaged themselves reading and doing research.
On the newly renovated Kissy library he said it would always help pupils by conducting seminars and providing career cancelling. He, however, implored other branch libraries to emulate such practices of helping pupils with career cancelling since "most parents in east-end of Freetown are illiterates." The Deputy Chief Education Officer, Alhaji Kamara education was keen to acknowledge that there were many challenges in the operations of their public libraries, adding that irrespective of the approximately ten years of civil war, "the Sierra Leone library is doing better compared to many other African
countries".
He assured the Kissy, Wellington and Calaba Town communities of a well-equipped, trained and qualified staff and that they would provide relevant books, computers and other paraphernalia to facilitate the digitisation of reading materials to enhance their preservation, conservation and effective information-sharing through networking.
Chief librarian of the Sierra Leone Library Board, Salieu Turay, emphasised the importance of refurbishing the library which he said would serve the most populous area in Freetown.
He said that since it was built in 1980, the Kissy library had undergone its second refurbishment, the last being in 2006. He said that "the library before was in dire need of refurbishment, but today, we have a library designed to be user-friendly which provides users with not only equipment for the access of knowledge but also ensures comfort and convenience."