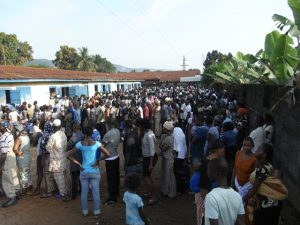 Contrarily to general forecasts by many conflict scholars, information reaching this medium from polling stations all over the country has confirmed that the average Sierra Leonean is now yarning for betterment and not violence, as they queue to decide who should lead them for the next five years.
I have visited this morning several polling stations across the eastern provincial capital of Kenema and the atmosphere in those stations was more friendly than expected. Majority of voters are youths and women who were seen queuing to cast their votes peacefully. So far there has been no record of violence in any part of the country. The exercise is said to be slower though but most voters seemed to trust the method and that makes the difference since electoral security chiefly lies in the free and fairness of the process.
"Trust us, this process is going to be violence free", said a military police who is serving as one of the auxiliary security personnel deployed across the city. "Do you think the average voter trust in case of post-election fracas?" I asked him gently. "Yes", he said insisting on anonymity of his identity.
The National Electoral Commission (NEC) which is conducting the exercise has embargoed movement of vehicler traffic throughout the polling period excluding vehicles accredited by the Commission including security personnel, independent observers and the press. Many civil activists have questioned the motion but the decision seemed to be in the best interest of the country since it makes it difficult for non-residents of a particular place to be trafficked and used as trouble makers in another place. The decision also terminates the possibility of using foreign voters from other territories as previously proclaimed by many.
The ordinary voter has become today very important for every politician because a single ballot paper is designed to determine the fate of several candidates: Ward Councilor, Parliamentarian and the President. In the case of capital cities like Bo and Kenema, a Mayor is also voted for.
I will be bringing you later reports on polling returns