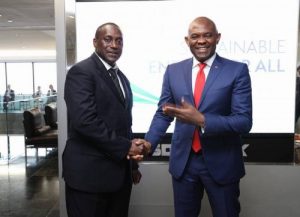 Dr. Kandeh Kolleh Yumkella has been appointed as one of the commissioners of the new Global Energy Transition Commission.
Kandeh is the only African to be appointed to the Commission, and joins an elite group of leaders, strategists and thinkers, including President Calderon – the former President of Mexico, Paul Poulson – former Secretary of the US Treasury under President George Bush, Chad Holliday – Chairman of Royal Dutch Shell, Dean Dalla Vale – CCO of BHP Billiton, Dr. Chengwen of the State Council of China, Lord Nicholas Stern – Professor of the London School of Economics, Mr. Liveris – CEO of Dow Chemicals.
Yumkella recently returned home to Sierra Leone after almost twenty years at the UN where he worked as Under Secretary and Special Representative of UN Chief Ban Ki Moon.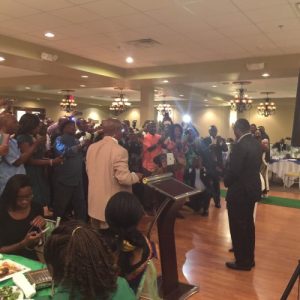 Speaking to the Sierra Leone Telegraph this morning, Chairman of the Kandeh Kolleh Yumkella Movement in the UK – Dr. Blango, said: "Our son of Sierra Leone is once again recognized as a global leader for change and transformation, and will continue to provide strategic advice to several institutions and initiatives globally."
Asked whether this means that Kandeh will relocate back to Europe, Blango was emphatically unequivocal: "No. He will perform this new role from his home base in Freetown, with periodic missions around the world."
This appointment follows the ceremony last week at the Mellon Center, Washington DC, where Kandeh Yumkella was honored with the Charles H. Percy Award for Public Service by the US Alliance to Save Energy.
Dr. Blango said: "When the best of the best call on Kandeh Yumkella, why should the people of Sierra Leone settle for the lowest common denominator. Our man is a global icon and his skills are badly needed to transform Sierra Leone.
The Commissioners of the Energy Transition Commission bring together a remarkable range of viewpoints and extraordinary depth of experience, from across the global energy spectrum, including large energy companies, renewable energy interests, heavy energy users, public and academic institutions and foundations.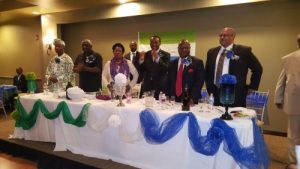 Many of the Commissioners have taken part in high-level negotiations on climate change deals. What they share in common is a progressive attitude to reforming the energy system.
The McKinsey Centre for Business and Environment, one of the top five consulting and strategy companies of the world will provide analytical support to the new Commission.
"Kandeh Kolleh Yumkella is first among equals. The time is now and KKY is our only hope for a better Sierra Leone when poverty shall be no more," Dr. Blango said.
In another development, last week the Nigerian multi-billionaire and entrepreneur – Chief Tony Elumelu met with Kandeh Yumkella at the UN. The African businessman and philanthropist – Tony Elumelu is the Chairman of Heirs Holdings and Founder of the Tony Elumelu Foundation.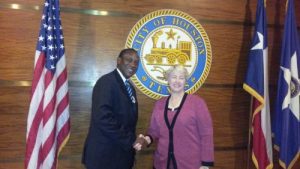 Speaking in Abidjan in June this year where he joined Dr. Yumkella and several African leaders to discuss energy poverty in Africa, the Nigerian multibillionaire said: "Providing access to electricity for schools, hospitals, businesses and industries is the single most impactful intervention that can be made to transform the continent. It has tremendous implications for job creation, health, food security, education, technological advancement and overall economic development."
Chief Elumelu is a founding partner and Co-chair of the African Energy Leaders Group (AELG). Other founding partners of AELG include; Ivoirian President Allasane Ouattara; Ghanaian President John Mahama; President, African Development Bank Dr Donald Kaberuka; President & CEO, The Dangote Group, Alhaji Aliko Dangote; President ECOWAS Commission, Kadre Desire Ouedraogo; and President UEMOA Cheikhe Hadjibou Soumare.
Also in the news US last week, Dr. Kandeh Yumkella was hosted by the Member  of US Congress, along with the Mayor of Houston, Texas, where they discussed a range of issues, including investing in and supporting Sierra Leone's development.