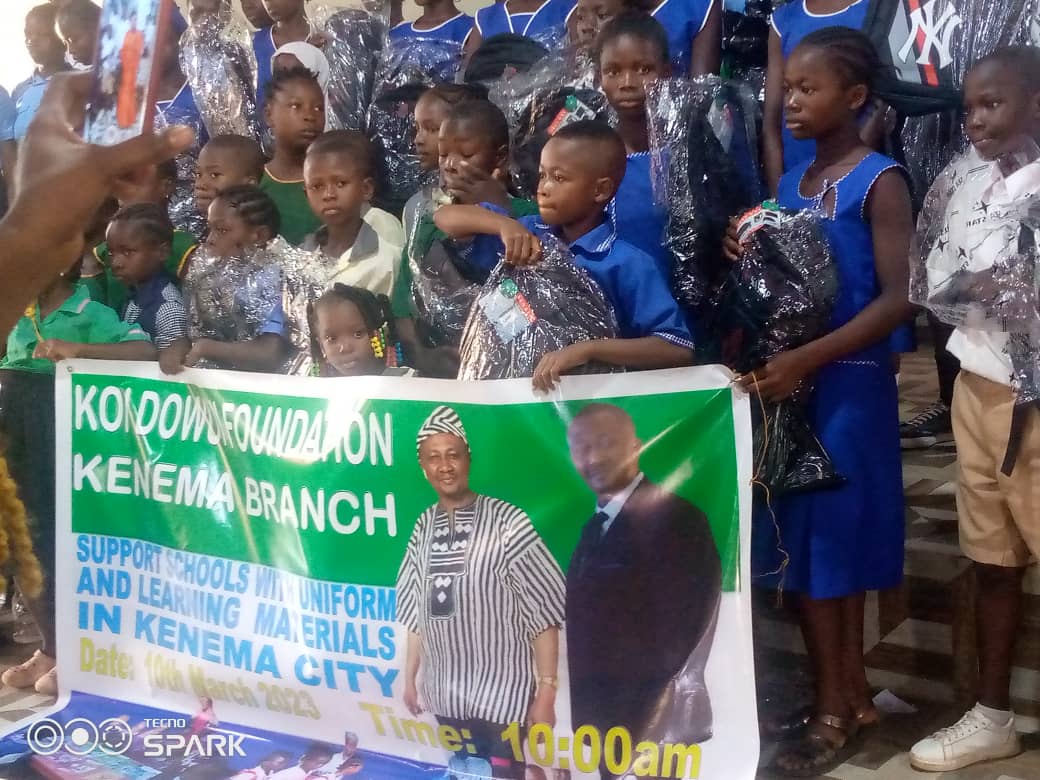 The Koiduwui Foundation team in Kenema has donated educational packages to 50 underprivileged children selected from diverse primary and secondary schools in Kenema city. Items donated include school uniforms, bags, books, pens and pencils and were received by the pupils and their parents. The gifts were donated on behalf of the CEO, Alhaji Ibrahim Koiduwui, who is currently assigned to national duty in the Kingdom of Saudi Arabia.
The colorful event, which took place on Friday 10th March 2023 at Kenema District Council Hall, Nyadeyama Road in Kenema city, was attended by many state actors, including Morison Mojue, Chairman of the Sierra Leone Teachers Union (SLTU), Abdul-karim Vanghahun, District Coordinator of Free Quality School Education and many other representatives of the Kenema District Council. This milestone event will continue to linger in the hearts and hearings of many Sierra Leoneans as it directly supports His Excellency President Bio's Free Quality Education agenda.
Presenting the items, Mr. Abdul Rahman Mansour, Chairman of the Koiduwui Foundation – Kenema branch, revealed that the Koiduwui Foundation has decided to donate those items to support the efforts of President Bio and his government in the Free Quality Education drive and to equally enhance the less privileged children to compete with the privileged ones to ensure that the beautiful dream of the president becomes a reality.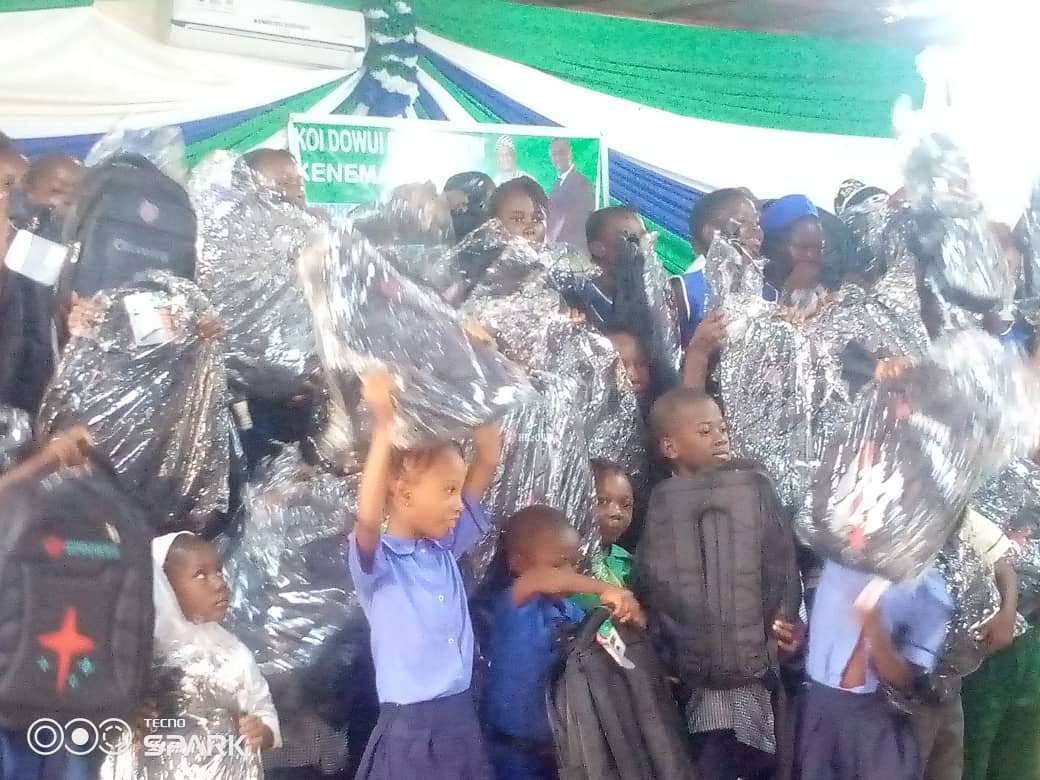 "The CEO, Alhaji Ibrahim Koiduwui" Mr Mansour went further, "is not donating these items to showcase his affluence. Rather, he has seen the need to pay back to his home country because he firmly believes in President Bio's leadership".  He further revealed that the targeted beneficiaries were selected using a brief survey conducted sometime last year in 10 schools across Kenema city. "I therefore implore you to use the items judiciously as many more are underway in years to come to benefit many other pupils" he concluded.
In His contributions, Mr Moris Moijueh Koroma, chairman of SLTU, on behalf of all teachers in Kenema District expressed thanks and appreciation to the Koiduwui Foundation for such a donation, adding that they (teachers) would feel at ease when teaching pupils who have adequate learning materials. He further noted that the Free Quality School Education and other facilities coming into the education sector are gifts that they were deprived of while going to school, resulting in many dropping out of schools even when they were highly intelligent.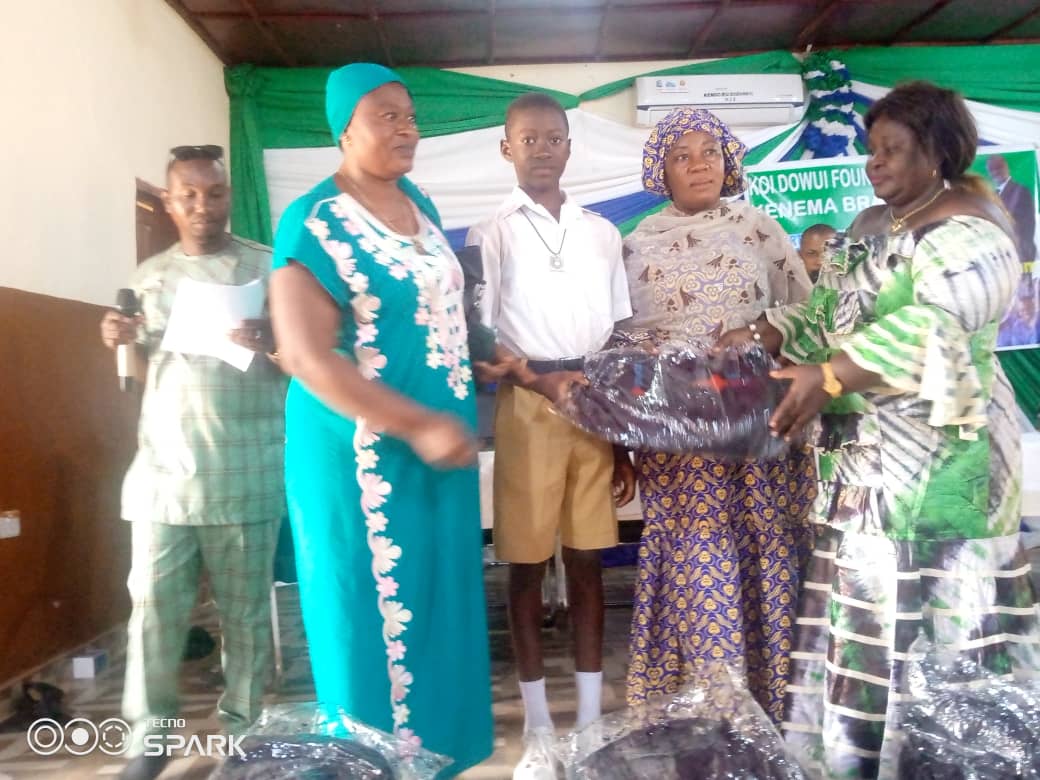 In his Keynote address, Mr Abdul-karim Vanghahunthe, Kenema District Coordinator of Free Quality School Education, said he was not surprised at what Alhaji Koiduwui is doing now because given-back spirit is in his DNA way back in school days. He asked the beneficiaries to keep praying for him and his foundation every time they used the materials, maintaining that there are many Sierra Leoneans in the diaspora who are more prosperous than Alhaji Koiduwui, but they cared less about the country and that only a true patriot can think of helping home because it's never a forceful duty.
Each child collected their packages, and the program was climaxed by jubilation with the chanting: "tank U Koiduwui Foundation, May Gud bless De CEO en his family oooooh".