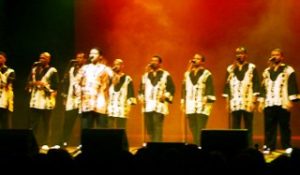 Joseph Shabala and his South African multiple Grammy Award winning choral group, Ladysmith Black Mambazo that first gained worldwide prominence from their collaboration with Paul Simon on his 1986 Graceland album, will perform a free concert Friday, June 28 in commemoration of Celebrate Brooklyn! 35th anniversary at Prospect Park in New York.
They will share Prospect Park's Bandshell stage with Garifuna guitarist and soulful singer Aurelio Martinez who blends African and Latin acoustic roots. Martinez, the first black member of Honduras National Congress is widely known for his composition "Africa' a duet with the late Belizean Punta Rocker Andy Palacio.
29 performances embodying a variety of genres and artists from around the world including Brooklyn and across the United States, Europe, Latin America and Africa are presented at this year's special 35th anniversary's festivities that began June 5 – August 10.
A majority of the performances – 24 including 20 music concerts are free (a $3 donation is suggested) and 5 shows are reasonably priced benefit concerts.
"Celebrate Brooklyn! Is an artistically curated performing arts festival that draws on our mission of presenting world-class emerging and established performers that reflect and attract Brooklyn's diverse communities, "said Jack Walsh, Brooklyn Information & Culture (BRIC) Director of Performing Arts and Executive Producer of Celebrate Brooklyn! adding, "There is no application process."
From the year 2000 up to 2010, Celebrate Brooklyn showcased African music festivals that featured an all day line-up of artists from different regions of the continent in addition to an African marketplace with over 50 vendors selling food, arts and crafts and clothing.
However, according to Walsh "as the number of park users climbed each summer the event logistics became problematic as the only location for the marketplace was on the park drive, which had become dangerously congested with cyclists, vehicles for marketplace deliveries, festival attendees and other park users."
Walsh said though the African music festival survived, it has been downsized "Working with Prospect Park and NYPD, BRIC decided to retire the "festival" concept without eliminating Celebrate Brooklyn!'s annual tradition of at least one world class, free African music concert. We are delighted that in this, our 35th year, the Celebrate Brooklyn! Line-up includes two African music performances featuring four amazing artists from the African continent."
Grammy nominated duo Amadou & Mariam (popularly known as the blind couple from Mali) with opening act Tuareg guitarist Bombino will perform on Friday, June 21 at 7:30 pm as the first of two African music performances this season.
On Friday, August 9, electro hip-hop artist TK Wonder will open for dancehall reggae most commercially, successful artist Shaggy for an evening of Caribbean cultural delight followed by the festival's conclusion on Saturday August 10 with native Brooklyn duo They Might Be Giants (TMBG) and Moon Hooch.