By Dennis Kabatto, CEN, USA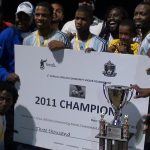 Leone Stars of Southern California
Members of the Los Angeles based 'Leone Stars' of Southern California are still celebrating and savoring their 2-1 defeat over Cameroon's 'L.A. Lions team on Saturday, September 3rd, 2011 to capture the first ever African Community Soccer Tournament (ACST).
Organizers say the tournament sanctioned by the California State Soccer Association (CalSouth), the official youth and adult state soccer association of the United States Soccer Federation and United States Youth Soccer attracted over 2,500 spectators including South Africa's Consul General Cyril Sibusiso Ndaba. The Los Angeles tournament featured 24 teams representing 20 African countries, including Jamaica showcased 384 of Los Angeles best semi-professional and amateur soccer players at the John Ferraro Soccer Complex.
"Sounds great being the Captain, a lot of respect and it gives me great pride to represent Leone Stars of Southern California and our country Sierra Leone," expressed first year team captain Brian George, 27 of Los Angeles who joined the team 7 years ago in 2004. "The championship is dedicated to our former late goalkeeper Alhassan 'Gerome' Dumbuya and former late coach Akie G. Noah respectively, both of whom recently passed away." George added.
Team Captain George said the one day tournament started at 9 am and ended at 10 pm with each game lasting for 60 minutes duration. "Our first game with Togo was hard because it was played early 9 am in the morning and some of our players didn't get enough sleep from the previous night out on the town," George said.
According to a press release issued by ACST, The Leone Stars, defeated Ethiopia's L.A. Stars (0-2), Togo's Black Hawks (0-1) in first round match ups before advancing to the quarterfinals to face Nigeria's Black Eagles (0-2). In the semi-finals, the Leone Stars sealed their place in the finals by taking out Ghana's Africa United team 5-4 in penalties.

Lions of Cameroon
"Team work was responsible for Leone Stars to emerge victorious including great coaching by our Coach Abdul 'Dodos' Sesay, we went out there believing that we could win the tournament and we actually came out victorious," Mr. George said during a phone interview Thursday on his way to his criminal justice class. He also said he is set to graduate from Everest College next year with a degree in criminal justice which he hopes will help him pursue his dream of becoming an officer with the Los Angeles Police department.
In addition to George, the Leone Stars were represented in the 2011 ACST by midfielders Ibrahim Kebe, Christian King, Kedrick George, Mohammad Kamara, Osman Kamara, and Mickey Rickey; defenders Alimamy Kanu, Abdul Kamara, Tejan Kallou, Miguel Alvarez, and Francis Sesay, forward Salieu Fofana; strikers Adrian Hamilton and Albert Sapateh; goalie Joe Hernandez, and team managers Tejan Sesay and Thomas Kamara.
Midfielder Christian King was named MVP for scoring 3 goals throughout the tournament all while playing with a serious knee injury.
The Leone Stars of Southern California was formed in 1990 by a group of Sierra Leonean's living in Los Angeles. The team plays in various local, state, and national tournaments including the Sierra Leone Old Athletics Association's (SLOAA) annual soccer tournament that assembles Sierra Leoneans from all across the United States.
"Los Angeles has a vibrant African community," explains Charlotte Kouassi, company co-founder and Republic of Côte d'Ivoire native. "The African Community Soccer Tournament is an event that puts a face on our community and puts on display our love and passion for soccer while bringing us all together to celebrate our common bonds—Africa, soccer, and the city of Los Angeles.
The 2011 ACST was produced by Vuvuzela Media and Marketing and was sponsored in part by: SoccerShopUSA.com, Christ Citadel International Church, Clear Essence, MoneyGram International, Turkish Airlines, and Broadway Federal Bank with media partners CaribPress, Immigrant Magazine, African Times, The African Trumpet, and Pacifica KPFK 90.7 FM.
"We're excited about 2012 and look forward to the return of this year's teams and the addition of new teams," says Isaac Appiah, Vuvuzela Media and Marketing co-founder and Ghana native. "We congratulate all of this year's participants. With the success of this first time event, we all are winners."
As for his team's future plans George said "is to put Salone on the map, get into and win more football tournaments, we are really looking forward to the upcoming Sierra Leone Inter-State Association (SLISA) soccer tournament in Maryland next July."
Leone Stars were awarded $3,000 check as first prize money by the tournament sponsors including Broadway Federal Bank, Soccer Shop USA, and MoneyGram Internationa.
For all of the 2011 African Community Soccer Tournament highlights including scores, photos, and videos, please log onto www.africansoccerla.com, the home of the ACST and online destination for Los Angeles area Blacks in soccer. For more information on Leone Stars of Southern California contact Brian George at (424) 652-0778