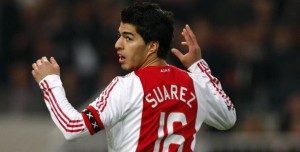 On a day that Tottenham Hotspurs emphatically announced their arrival to the high table of English football with a thumping hammering of Newcastle FC, it was sad that the talk was all about "the handshake" rather than good football. The talk in the build up to the match between Liverpool and Manchester United had been about whether Suarez and Evra will shake hands and move on. The meetings between these two giants of English football have never been a dull affair but extra spice had been added to this year's fixture because of the background that had set this encounter for an explosive battle. Capello had just "resigned" (yea right), and Harry Redknapp had just been anointed by popular demand as the heir apparent in waiting.
If the English FA needed any further proof that Redknapp was the man to give the England fans something to shout about, it was there in full display for all to see. The blistering manner with which the pretending Newcastle was obliterated was enough to rule Alan Pardew out of the race; although he had earlier ruled himself out of the running for the England manager's job. In short, Tottenham employed a "shock and awe" tactics that had hitherto only been witnessed in Iraq (football's equivalent). But as we have seen throughout this football season, the talk had to be about off field antics instead of the 90-minute duels.
Suarez has been roundly condemned from pillar to post for his refusal to shake Evra's hand in the pre-match ritual and rightly so. But if truth be said, the blame for all this should be laid squarely at the manager, Kenny Dalglish's door. Throughout this debacle, he had remained resolutely blind in his support for Suarez. I am inclined to think that the historical tribal rivalry between these two clubs may have played a major part of his stance on this issue. Kenny Dalglish seemed to take the issue very personal; oblivious of the kind of damage he was causing the team and the club's image. Dalglish returned to Merseyside as a saint and this prompted his paymasters to release the purse strings with reckless abandon.
He is reported to have spent approximately £100 million on transfers. Unfortunately, with the exception of Suarez (at times) and Craig Bellamy whom he signed on a free transfer, none of his mega bucks signings have given the fans any reason to get off their seats. As Demba Ba of Newcastle continues to make Andy Carroll's £35 million signature look like a bad piece of a joke for Dalglish, many see his recalcitrance on the subject as a diversion for his bad judgement. With such an outlay on new signings, the least his paymasters would expect would be a Champions league top four finish. But Dalglish and Suarez should learn to greet failure with the same handshake as they would success, for handshakes are proper business protocol.
Dalglish offered a grovelling apology on Monday stating that "all of us have a responsibility to represent this club in a fit and proper manner. That applies equally to me as Liverpool manager". Dalglish denies knowledge of Suarez's refusal to shake hands before his post match interview but has since acknowledged that he did not conduct himself "in a way befitting of a Liverpool manager during that interview". But even when he was reminded by the Sky reporter Jeff Shreeves that Suarez refused to shake hands, he was adamantly defensive of his striker. It must have taken the intervention of his paymasters and shirt sponsors to draw out such grovelling from a man who, twenty fours earlier behaved like he was walking on water. In his condemnation of Suarez's behaviour, Sir Alex reminded the Liverpool faithful of the club's history and its standing in world football.
Although many think that Fergusson may have gone too far by saying that Suarez should never be allowed to play for Liverpool again, you wonder whether this was the time that the penny dropped for the club. Whether Ferguson went "too far" is debatable, but by implication he may have been telling Liverpool two things. Firstly, that such a behaviour would never have been tolerated at Manchester United. Secondly, as Beckham, Jaap Stam and Paul Ince had found out, no player was bigger than Manchester United and none was indispensible. As fate would have it, Ferguson recently said in an interview that the most important person in any football club was "the manager"; and that was in response to the sacking or resignation of Capello.
Suarez had been promised that he "will never walk alone", but many pundits believe that he has become too toxic an asset to keep. The behaviour of Suarez drew worldwide condemnation but those who are familiar with his rap sheet from previous clubs would not be surprised at his latest antics. With the current economic climate, the recently signed £81 million four-year shirt sponsorship deal with Standard Chartered Bank was also put in jeopardy, a prospect that is too costly to sacrifice for one man. Unlike Dalglish, Sir Alex Ferguson publically condemned Patrice Evra for his exuberant celebration; a rarity for him. Ferguson is not only renowned for backing his horses but also his players to the hilt. It was a rare break with custom for him to criticise his player publically, especially after putting in such a good shift.
Some have excused Evra that he must have been caught up in the spirit of the moment, but he should have also remembered that "the fragrance always remains with the hand that gives the rose" Much has been blamed on Suarez for his behaviour, but much of that should be targeted at his manager who, up to last week had refused to acknowledge, if not accept that Suarez was guilty of making racial comments against a fellow professional. He never accepted that Suarez should have been "banned in the first place". The irony is that he refused to take up the option and the right to appeal against the decision; even though he disagreed with it.
Suarez can be blamed for his antics and whatever, but there is no doubt that he must have taken his cue from his manager. Had his manager let sleeping dogs lie in the first instance, many believe that the matter would have been put to bed. With his manager's behaviour, the African saying that "you don't blame the foo-foo but the okra that gives the foo-foo passage" comes to mind. Liverpool claimed that they were deceived by Suarez after going back on his word. The truth is that Suarez behaved like the proverbial favourite child who could do no wrong in the eyes of his father. The unadulterated backing that he received from the club, the manager and his team mates was enough to make him feel that he could get away with anything. Having received such unequivocal support, he could not tell where to draw the line or when the public had become constipated with his antics.
Despite everything that has happened, the irony of the much talked about "handshake" has not been lost on some of us. The ritual of handshakes in matches may appear trivial to some, and some may be wondering why all the fuss. Among other things, it may serve as a gentle reminder to players that though competitive, it is still a game. When Sepp Blatter was once quoted as saying that issues like racism should be resolved with a handshake between players, he was roundly condemned by many, including myself; and rightly so. Now, it may sound funny that we are up in arms because someone refused a handshake. His suggestion seemed to trivialise the whole issue of racism in sports and in society at large. The English FA and the press roundly condemned him and rightly so for his flippancy.
The FA and UK in general have been known for their efforts in the fight against racism and it was not surprising that much of the condemnation of Blatter had come from these shores. The irony is that, it is the same idea of handshakes that has caused so much raucous in the sporting world recently. That is where the similarities end. The difference here is that while Blatter suggested handshakes without recourse to justice, the FA maintains that the handshakes were vital, but only after justice has been done. That is where the FA and Sepp Blatter differ among other things and other issues.
Some pundits feel that too much has been made about pre-match handshakes, and that it should be banned altogether because of the flashpoints it has caused. The FA cancelled the pre-match ritual between Queens Park Rangers and Chelsea in an FA Cup match, because of the ongoing John Terry case. It looked like the sensible thing to do at the time, but to call for its total ban is not only petty but avoidance behaviour. Why should the courtesy be dropped because Suarez does not conform to it? If the football world should learn from or take lessons from anyone, Suarez is the last candidate that should qualify for that. To ban the pre-match handshake will only serve as a moral victory to Suarez and all those sycophants with similar thought disorder. Now that the apologies have been made, it is time to move on and Liverpool should get back to the business of the beautiful game; for which they have been known worldwide.
But it is not all doom and gloom for football as Carlos Tevez is coming back to help the Blue half of Manchester win the Premier League. After Roberto Manchini declared him "finished" with Manchester City, it is surprising to many that the tone from both circles has been conciliatory. Some critics have been in a hurry to see this move as a sign of pressure or panic by Manchester City. Either way, the Manchester City fans who were calling for "crucify him" will equally waste no time in singing "hosanna". Who said that fans are not fickle? But not to be outdone on the controversy charts by Suarez, Tevez claims that he was "treated like a dog". He must be one expensive one, on £200 thousand a week. Tevez, Suarez, do you get the rhyme?
Don't forget to shake hands before you leave the room.