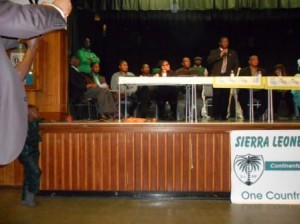 As he continue his tour of Continental Europe, the presidential hopeful of the Sierra Leonean main opposition, Rtd. Brigadier Julius Maada Bio on Sunday morning met with the Sierra Leone Fullah Progressive Union (FPU), one of the most powerful Sierra Leonean groups in Holland at his Presidential Suite . They pledged their support for his campaign and offered prayers for Sierra Leone and Rtd. Brigadier Bio. The SLPP strongman also met with business people from the island of Curacao and the Turkish business community residing in Holland that are ready and willing to invest in Sierra Leone.
In a well attended town hall meeting, the Chairman of the Sierra Leone Peoples Party Continental Europe (SLPPCE), Mr.Solomon Baimba Mansaray, welcomed the audience and thanked them for attending the gathering. "We are making history right now, this is the first time a presidential candidate has visited Holland" the Chairman said. The meeting proceeded with prayers from both the Muslim and Christian leaders.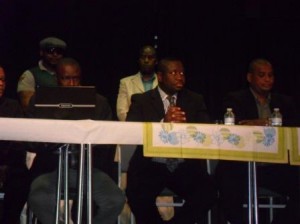 Various speakers contributed in registering their support and admiration for the presidential candidate and pledged to support him win the Presidency come November 17, 2012. Mr Abu Bakarr Jalloh of the FPU told the crowd that "for the fact that Maada at his tender age was wise enough to hand over power to Tejan Kabba for democracy to prevail, he can be a very good leader now that he is so much experienced". He said.
Earlier, Mr. Ernest Smith, the Secretary General of the SLPPCE, introduced the Executive of the SLPP Continental Europe.
The keynote address was delivered by no less a person than the charismatic and no nonsense Presidential candidate of the SLPP Rtd. Brigadier Julius Maada Bio. The opposition flag bearer shared his "New Direction" plan with the audience and assured them that he will denounce any form of violence before, during and after the election later this year.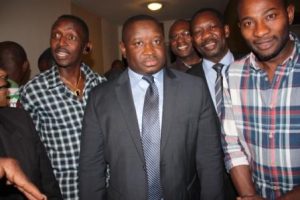 Present at the meeting was a cross section of the Sierra Leonean community and friends of Sierra Leone. The Sierra Leonean umbrella organisation commonly known as the Central Union was represented by its dynamic leader Mr. Mohamed Teslimi Bangura and members of his executive. Also in attendance were senior members of the All Peoples congress (APC) in Holland.
The vote of thanks was delivered by the Organising Secretary Mohamed C Bah