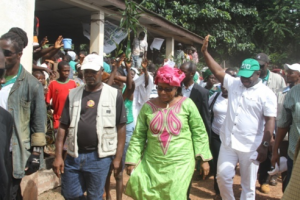 Today, October 8, 2012, marks an historic milestone on that road. It is the day my Running Mate, Dr. Kadi Sesay, and I have received the official Nomination of our Party to contest under its banner for the high office of Vice-President and President respectively of our beloved Republic of Sierra Leone.
So, therefore, as from today you can call us the Vice-President and President of Sierra Leone in- Waiting!
We have all worked hard, very hard, together to get to this historic point. I think we all deserve to congratulate ourselves. It is no mean feat that we are where we are today, having surmounted so many undemocratic challenges and impediments, some of them violent. But we will continue to remain focus on our ideals, values and overriding philosophy of a united country grounded on our ideology of a "Centre Right" party that seeks to liberate the energies of our people to effectively manage our resources to create wealth and opportunities for our people while ensuring law and order, respect for the rule of law, social justice for all, promote human and civil rights of and guarantee the economic and judicial independence of the judiciary
That we have today succeeded in reaching this road score is significant. It means in plain terms that the APC Government of President Ernest Bai Koroma has failed in its vicious attempts to stifle multiparty democracy in this country. Now the people of Sierra Leone just can't wait to bring their long suffering under the Presidency of Ernest Bai Koroma to an end. By sheer coincidence, if not by Providential design, its final demise will come exactly 40 days from today when the people of Sierra Leone will put the last nail in the coffin of the Government of Ernest Bai Koroma, by evicting him and his corrupt business cartel out of State House through the ballot box on November 17, 2012, Sharp 12.
On that day, Sierra Leoneans will tell Ernest Bai Koroma that they deserve a better administration than he has provided them; that they are not cows to be milked every day for the benefit only of members of his family and associates; that they are determined to restore their lost unity and dignity as free Citizens of Sierra Leone and free themselves from the bondage imposed upon them by Sierra Leone Incorporated, a business enterprise operated wholly and solely for the profit of the Koroma family of Yoni, Bombali District, and their associates; just as they had freed themselves once before from the oppression of the erstwhile One-Party misrule of the APC in 1992.
Fellow Citizens,
Nomination Day, today, therefore, marks the beginning of the restoration of our national unity and cohesion as well as the return of our freedoms to be consummated under the New Direction leadership of my Government after November 17. Then we shall all attend the final requiem of the misrule of President Ernest Bai Koroma forever.
We shall all indeed do this because:
Under our President, Sierra Leoneans are going to the polls more hungry than before he took office in 2007;
Under our President, our currency, the Leone, lost more value than ever before; nowadays we get less for Le1,000 than before he took office in 2007;
Under our President, prices of most essential goods, especially our staple, rice, has skyrocketed more than three times since he took office;
Under our President, unemployment, especially among young people, has risen more than tenfold what it was before he took office;
Under our President, there is more insecurity and fear in the country than before he took office;
Oh my people, under our President, the nation has become more divided and polarized than before he took office;
Under our President, there is more lawlessness and indiscipline in the country than before he took office;
Under our President, there has been more executive interference with the judicial arm of government and the dispensation of justice than it has ever been since independence;
Ha! Under our President, there are more crises in education than before he took office;
Under our President, there are more diseases and epidemics especially amongst the poorer people than before he took office;
Under our President, there is more land grabbing especially in the Provinces than before he took office;
Under our President, our mineral wealth has been more mortgaged and with lesser returns to the citizenry than before he took office;
Under our President, there has been a growing incidence of corruption and more dubious and scandalous activities in the Presidency and Vice Presidency than since independence, making the general public become more and more cynical and skeptical about the fight against corruption than before he took office;
Under our President, the standards of truth, honesty and integrity in public life have taken a deeper nose-dive than before he took office in 2007;
Under, our President, abuse of public office for private gain has grown into a free for all and impunity has reached an intolerable level much higher than it was before he took office;
Under our President, many more ugly things happened than ever before that has made the people of Sierra Leone most unhappy; in fact Sierra Leoneans are poorer and more miserable today than since independence.
This is the smallest part of the score card of President Ernest Bai Koroma. But it speaks volumes. Put simply, by his own promises; President Koroma has failed the nation. In school or in the classroom, when a child fails, often he is allowed to repeat the same class a second or third time. However, make no mistake; State House is not a school or a classroom. President Koroma is not a child nor is he in school; on the contrary, he is a full-grown adult with lots of grey hairs on his head. When he fails on his own promises – as indeed he has done – there can be and should be only one response – boot him out of State House. That is the punishment for political failures everywhere in the world and Sierra Leone is no exception. By the same token, if, after voting me into the Presidency on November 17, I fail to deliver on my New Direction promises, the same fate shall await me when the time comes.
Fellow Citizens,
Sierra Leone is a new democracy. Today democracy is taking deeper and firmer root in our society: government of the people, by the people and for the people. No other system has worked better. Certainly not the one-party which the APC used to ruin this country for 13 long years, bringing about conditions that gave rise to a ruinous civil war that lasted 11 nightmarish years.
Never again will the people of this country tolerate one-party rule, under whatever guise. After 13 long years of seemingly interminable APC one-party misrule, thank God we succeeded in restoring multiparty constitutional democracy in 1996 under my watch. However, at best, democracy in Sierra Leone can be likened to a very young plant that is in need of constant caring and tendering. To such an extent that each time we, as political leaders, have the opportunity we must care for it with great tenderness and respect so it can grow better and deeper with firmer and firmer roots in our national psyche.
I consider this both a legal and moral obligation that is implicitly enshrined in our national Constitution. As a Party, the SLPP does and will always respect and enforce multiparty democracy. Our Party brought independence to colonial Sierra Leone; our party also ended an eleven years internecine civil war and also consolidated multiparty democracy; and every election held under our watch has been free, fair, transparent and peaceful including in particular the two elections that brought the APC from opposition to power in 1967 nd 2007. So the SLPP has always delivered and is a profound respecter of non-violent democracy and the rule of law. This is my political inheritance from the founding fathers of our Party and I consider myself duty-bound to respect and honour it.
Can the APC say the same for itself? Obviously not. Not a single election previously held under their watch has been free from violence or election rigging. Not even elections under their one-party rule from 1978 to 1992. The 2012 elections are going to be conducted and supervised by the National Electoral Commission under their watch. They face a real challenge for the first time; they must show themselves as true believers in democracy and non-violence. The million dollar question though is: Do the APC have the capacity and the will to allow NEC a free rein to conduct the elections fairly and credibly? The answer is anybody's guess. One thing though is clear: the people of Sierra Leone are waiting; and the rest of the world is watching.
The celebrated APC Vuvuzelas never tire of seizing every moment to vilify and demonize me. They did this before my election as Flag Bearer, yet Sierra Leoneans were not convinced and they voted me the SLPP Flag Bearer. They have been doing it again before this nomination and the people have again ignored them. They are most likely to do it again after the nomination today and I know the people will again ignore them. They APC Vuvuzelas will never learn and they have somehow convinced themselves that they can set the agenda for the people. I will implore all our Party supporters to continue to ignore these people for they themselves know they are now beyond redemption; rather they appear now to be in a state of mental and psychological free-fall!
Lately, they have even alleged that I insulted the Paramount Chiefs of this country. How can anyone, for Goodness sake, expect that I, the son of a Paramount Chief, and therefore the legitimate custodian of the rites of paramount chieftaincy, would insult that noble and sacred institution into which I was born and of which I am a part? It's not only sacrilege; it defies imagination and it's downright unthinkable.
Finally, let me take this opportunity to thank all of you, my loyal supporters and Party faithful, for your unstinted support and commitment to ensuring that the SLPP bounces back to power in November 2012, with me as President. By your massive turn out in the cities, towns and villages we have visited up and down the length and breadth of this country, all those who believe and fear God now know that 2012 is the year God has ordained for the SLPP to return to State House. May God bless you all.
I also want to thank the able and illustrious Chairman of the SLPP, John Benjamin, and all other Executive Officers of our Glorious Party at all levels for your support and for your tireless efforts in making 2012 the year for the SLPP. The long-awaited political contest has now begun and we must redouble our individual and collective efforts to ensure that our Party returns to State House on the first ballot. I know the auguries are good and the chances of a first-ballot win with 55 per cent of votes cast are getting brighter and brighter by the day. There must be no run-off.
Let me also, on behalf of the Party and on my own personal behalf register our profound gratitude to Ambassador Alie Bangura and the other members of the Election Management Committee for a job well done. The SLPP and I can now say with great pride that by your unparalleled devotion and your tremendous ingenuity and diligence, you have made internal democracy in the SLPP to work and to take root. From now hence forward internal democracy will grow and flourish for the common good of our Party and our country at large.
To the international community, once again I want to publicly record our grateful thanks and appreciation. The people of this country know only too well that without your financial and other material assistance to NEC, there would have been no elections in this country at this time. Now that you have made it possible for elections to take place, we implore you never to tire of my representations and to robustly raise your own vigilance and observance of the elections to the highest level in order to ensure that they are conducted in a manner that is fair, transparent, credible and non-violent. This way, the general acceptance of the result by all the stakeholders would be guaranteed. That is all that we in the SLPP ask of you.
Fellow citizens, once more I thank you all.
God Bless the SLPP
God bless Sierra Leone
One Country, One People!