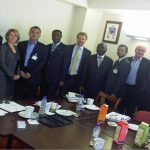 FREETOWN, SIERRA LEONE-The mining agreement between the Government of Sierra Leone and the London Mining Company Limited (LMCL) has been revised.
Briefing President Ernest Bai Koroma on Thursday 1st September 2011, at State House, the Special Adviser to the Office of Chief of Staff, Herbert P. M'Cleod said talks have been concluded on the new mining agreement reflecting Government's revised core mining policy
He disclosed that LMCL's cooperate tax is now in consistent with the law at 25% from 6% previously.  
At the same time, an advance pricing arrangement which forms part of the revised agreement that will help Sierra Leone get the best market for the country's iron ore, disclosed Mr M'Cleod.
For his part, President Koroma said; "as a government we took the position to review the mining agreements so that both parties should be happy. In the past our people didn't benefit from the resources of this country which is why government decided to stop this".
The new agreement, according to President Koroma will create jobs and training opportunities for people in mining communities as there has been considerable improvement on the policy than it used to be in the past.
Whiles noting that the Environmental Protection Agency was being very important in reaching the conclusions, he called on both parties to move on to the implementation process.
Mining agreements of London Mining Company, Koidu Holdings have been revised, while the processes for Sierra Rutile, Sierra Minerals, Koidu Holdings Tongo Fields and Cluff Gold are on-going and others pending for revision.