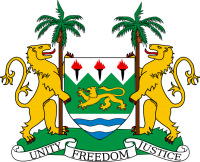 DECEMBER 9, 2013
P R E S S R E L E A S E
BY A PUBLIC NOTICE OF DECEMBER 4TH 2013, THE MINISTRY OF FOREIGN AFFAIRS AND INTERNATIONAL COOPERATION OF THE REPUBLIC OF SIERRA LEONE IS INVITING THE GENERAL PUBLIC AND INTERESTED PARTICIPANTS, BOTH LOCAL AND FOREIGN, TO THE SIERRA LEONE CHAMBER OF COMMERCE, INDUSTRY AND AGRICULTURE ANNUAL TRADE FAIR TO BE HELD AT THE NATIONAL STADIUM IN FREETOWN FROM APRIL 1ST TO 26TH, 2014.
FOR FURTHER RELEVANT INFORMATION AND NECESSARY ARRANGEMENTS, ALL INTERESTED PARTICIPANTS ARE ADVISED TO CONTACT ANY OF THE FOLLOWING:
1. THE CHAMBER BY E-MAIL slccia52@yahoo.co.uk
2. THE CHAMBER'S PRESIDENT BY CELLPHONE +232-76-611-826
3. THE EXECUTIVE SECRETARY BY CELLPHONE +232-77-591-751
ALL SIERRA LEONE DIPLOMATIC MISSIONS (EMBASSIES, HIGH COMMISSIONS AND HONORARY CONSULATES/CONSULATES-GENERAL) WILL BE READY TO ACCORD INTENDING PARTICIPANTS FROM ABROAD THE APPROPRIATE ASSISTANCE TO FACILITATE THE ISSUANCE OF THE REQUISITE ENTRY VISAS TO THEM.
COPIES OF THE REGISTRATION FORM AND CONTRACT WILL BE PROVIDED UPON REQUEST THROUGH THE E-MAIL ADDRESS PROVIDED ABOVE