By Dennis Kabatto, CEN Correspondent, USA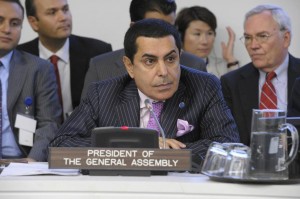 The New Partnership for Africa Development (NEPAD) concluded its five day celebration as part of its 10th year anniversary commemoration in New York Tuesday. Adopted in Lusaka, Zambia in 2001, NEPAD is an African Union program spearheaded by African leaders to pursue new priorities and approaches to the political and socio-economic transformation of Africa. NEPAD's objective is to enhance Africa's growth, development and participation in the global economy.
The week long commemoration kicked off Thursday, October 6 with key events including Special Briefing of the African Group by NEPAD on "Advancing NEPAD Implementation over a decade of opportunities" at the AU Permanent Observer Mission to the UN located 305 East 47th Street, 5th Floor, New York, followed by a three hour closed reception hosted by the AU Observer Mission to the New York
On Friday, October 7 United Nations and African officials gathered at the UN Headquarters and elsewhere in the city for series of high-level meetings and events designed to reflect on its achievements, foster debates and generate suggestions for further improvements.
A High-Level panel discussion on "NEPAD and the MDGs: Progress, challenges and the way forward," took place in the Economic and Social Council Chamber (NLB) followed by be a press conference in the Dag Hammarskjöld Library Auditorium. Participants included: Cheikh Sidi Diarra, Special Advisor to the Secretary-General for Africa; Ibrahim A. Mayaki, Chief Executive Officer of NEPAD; Olesegun Obasanjo, former President of Nigeria; and Abdoulie Janneh, Executive Secretary of the United Nations Economic Commission for Africa (UNECA).
"All these are opportunities for us to look back at the role of NEPAD and the remarkable progress Africa has made over the past ten years," said Mr. Diarra, UN Under Secretary-General and Special Adviser for Africa. Also in his briefings, Mr. Diarra called on developed nations to give Africa access to open international markets for its exports, reduce or write-off their debts and complete the Doha talks on trade. He urged African countries to increase domestic savings and lessen their dependence on foreign aid.
Speaking at a special briefing to the African Group as part of activities in New York to commemorate NEPAD's tenth anniversary, Ibrahim Assane Mayaki, the Chief Executive Officer of the NEPAD Planning and Coordinating Agency, explained that NEPAD had played a crucial part in the steady progress that was being made by the continent both in terms of democratization and development.
"The African leaders set up the African Peer Review Mechanism to advance good governance and democracy," he told Africa diplomats. The peer review mechanism is Africa's unique and innovative approach to governance. Its reports serve as early warning system of impeding threats to peace and stability in Africa. So far, 30 African countries have signed up for the review and 14 of them have completed the process. The mechanism has been one of the NEPAD Agency's most successful programs in encouraging democratization among members. For example, its reports anticipated the violence that followed the 2007 elections in Kenya and the 2008 xenophobic attacks in South Africa.
The President of the UN General Assembly, Nassir Abdulaziz Al-Nasser, on Friday praised the New Partnership for Africa's Development (NEPAD) for enhancing the continent's economic growth, development and participation in the global economy. Al-Nasser said the NEPAD had also contributed "significantly towards Africa's socio-economic progress achieved over the past decade. Africa has been the home of six out of the 10 fastest growing economies in the world," he said at the UN General Assembly, which hosted a high-level event to mark NEPAD's 10th anniversary on the theme: 'NEPAD and Millennium Development Goals (MDGs): Progress, Challenges and the Way Forward.'
NEPAD has also been instrumental in the development of Sierra Leone's agriculture and Fisheries. According to John Baimba Sesay, Communication Specialist at the West Africa Regional Fisheries Program (WARFP) NEPAD "allocated U$1, 4 million to carry out target activities within the three Thematic Areas which are (i) support to policy, legal and regulatory framework and needs (ii) development of an operational framework and (iii) Establishment of the National CAADP Sub-Committee of Fisheries for more effective management of both the industrial and artisanal fisheries to ensure that economic benefits accrue to Sierra Leone," Mr. Sesay said.
Despite these positive reports of progress, NEPAD's critics are blasting the organization citing some of its weaknesses . During an African Forum for Envisioning Africa Focus Conference, 50 African scholars concluded that NEPAD adopts social and economic measures that contribute to the marginalization of women, NEPAD does not question the global economic system that, in civil society's views, plays a major role in Africa's continued marginalization and NEPAD may be a continuation of the highly questionable Structural Adjustment Programs, now including privatization of public services such as water and electricity supply or health services.
Yetunde Odugbesan is a graduate of the United Nations Worldview Institute and currently a Ph.D Candidate (ABD) at Division of Global Affairs Rutgers University in New Jersey, in a statement via email she said "as NEPAD celebrates its tenth anniversary, there is both cause to celebrate and to further re-assess NEPAD's success rate in implementing their various development programs in African countries."
Ms Odugbesan also contends that "although NEPAD boasts of setting up various programs, the issue of delivery has been a constant problem. Many initiatives of development have stayed in its initial stages due to ineffective implementation which creates a public perception of NEPAD's ability to delivery results as low. Political instability, high levels of corruption and poor infrastructure are still plaguing African countries according to Transparency International in which many of the African countries are reported to still have high levels of corruption," she added
The five day celebration ended Tuesday with a First statement of the NEPAD Agency as an Observer Mission (African Union status) on the occasion of the UN General Assembly Debate on NEPAD or "NEPAD DAY" at the UN General Assembly Hall in New York