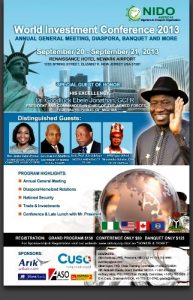 Nigerians in the Diaspora Organization (NIDO) New Jersey Chapter will hold a two day World Investment Conference on Friday, September 20 through September 21, 2013 at the Renaissance Hotel in Newark, New Jersey.
President Dr. Goodluck Ebele Jonathan, President of the Federal Republic of Nigeria is Special Guest of Honor while Mr. Steve Akinboro, Executive Vice President Dominos Pizza is designated Keynote Speaker.
The Conference Moderators are Segun Adeyina, General Motors; Carol Frazer, The Economist; Obinna Anusiem, Nigeria Exchange and Kazeem Bello, Citigroup Global Markets.
This annual conference is part of a broader effort by Nigerian professionals, entrepreneurs, scholars and stakeholders in the United States and overseas to help the Nigerian government in formulating strategies and progressive policies in harnessing the country's resources deal with challenges relating to sustainable development, creation of jobs and environment to lure investors for successful investments in Nigeria.
NIDO, New Jersey Chapter President, Dr. Akin Awofolaju said Wednesday the Conference will revisit and accentuate the need for the implementation of Diaspora Bonds by the Nigerian government, an idea which he said was initially presented in a position paper to Nigeria's Minister of Economy and Finance Dr. Ngozi Okonjo-Iweala during a conference on June 21, earlier this year.
Dr. Awofolaju also said the approximately $25 billion in remittances that Nigerians send home from abroad "could be used for many purposes including improving infrastructure, relieving national debt and building wealth."
A Young Professional Panel will discuss the role of youth in Nigeria's sustainability on September 21, the closing day of the sessions.
Panelists include: Adebola Williams, Yetunde Odugbesan-Omede, David Kuranga, Ony Nwahuocha, Dayo Isreal, Special Advisor to President Jonathan on Youth Affairs; Hadiza Mohammad, Aliko Mohammed and Wendy Osefo.
This conference has gained so much attention because we are providing tangible solutions on how to tap into the innovative resources and intelligent discourse that will benefit the country of Nigeria. Nigerians in the Diaspora are not only great at sending remittances or being international donors, we are the best leaders and investors in Nigeria's economic, political and social development, said Odugbesan-Omede, Panelist, Chair of Youth Affairs and Mobilization, a PhD candidate at Division of Global Affairs, Rutgers University in New Jersey and an Adjunct Professor at Rutgers University.
"The role of the youth in Nigeria's sustainability is crucial. When I talk about sustainability, I am referring to lasting development that takes into account political, social, economic, and environmental factors," said Odugbesan-Omede in statement, "For Nigeria, this means investing in economic sectors that create jobs for all especially the youth. Building better and more efficient infrastructure to provide key services such as reliable electricity and transportation, and empowering political institutions that allow individuals and businesses to engage in advocacy and let their voices be heard," said Odugbesan-Omede in a statement.
According to the 2013 index of Economic Freedom, an annual guide published by The Wall Street Journal and The Heritage Foundation, with a population of over 160 million, Nigeria has a GDP of $413.4 billion, $2,578 per capita, an annual 7.2 percent growth, 10.8 percent inflation and 21 percent unemployment rate.
For a complete program guide including scheduled Panels, Gala and Conference registration visit www.nidonj.org