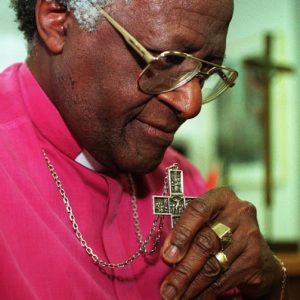 He won the Nobel Peace Prize and is considered a hero in the fight to end apartheid, and he would not worship a homophobic god. South African archbishop emeritus, Desmond Tutu, said that he would rather go to he|| than worship a homophobic God at a rally for Gay rights hosted by the United Nations Human Rights Office in Cape Town, South Africa, on Friday.
"I would refuse to go to a homophobic heaven," Tutu said, as reported by Australia's Herald Sun. "No, I would say sorry, I mean I would much rather go the other place…I would not worship a God who is homophobic and that is how deeply I feel about this."
Although Tutu says he feels "deeply" about not worshiping a homophobic God, he is still committed to equality for all. "I am as passionate about this campaign as I ever was about apartheid," said Tutu.
"For me, it is at the same level." The retired 81 year old is a well renowned campaigner for gay rights, and compared the struggle to that of racial equality in South Africa.
According to UN High Commissioner for Human Rights, Nave Pillay, although same-sex marriage is legal in South Africa, homosexual acts are still illegal in 38 other African countries. Of those 38, five make same-sex relationships punishable by death. Homosexuals still experience brutal violence. Last month, a lesbian was found dead after having been sexually assaulted with a toilet brush. Pillay commented that South Africa has "some of the worst cases of homophobic violence."
"People are literally paying for their love with their lives," Pillay said. "I constantly hear governments tell me, 'but this is our culture, our tradition and we can't change it'…So we have lots of work to do."
Mr. Tutu has been an outspoken advocate for equality, regardless of race, gender, or sexual orientation for many years. He received the Nobel Peace Prize in 1984 for his remarkable role as a unifying leader in the fight to end apartheid.