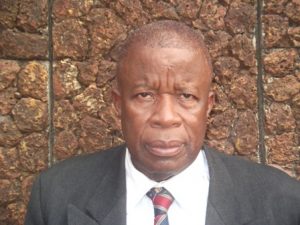 It is with great sadness that I report the death of Honourable Augustine Bockarie Torto, who passed away peacefully on Friday 9th October 2015 at 01:30 hours. This sad event occurred at the T. Choithram hospital in Freetown, Sierra Leone.
Hon. A.B. Torto was the former proprietor of South East London College, Nimiyama Housing and Telcat security companies, all based in the United Kingdom. He was a founding member of the Kono District Development Association (KDDA) and noted for his generosity and splendour. He was the elected Chairman of the Sierra Leone People's Party (SLPP) United Kingdom and Ireland branch between 1996 and 2000. He was the elected SLPP Member of Parliament for Constituency 25 (Kono North West Constituency) between 2002 and 2007. He joined the All People's Congress (APC) Party in 2007, and was subsequently elected as the APC Member of Parliament in 2007 and 2012, clearly registering the fact that he was the Man of the People in Constituency 25. Hon. A.B.Torto served the Sierra Leone Government as representative to the Economic Community of West African States (ECOWAS) and the European Union (EU). Until his death, he was the Chairman of the Parliamentary Committee on Foreign Affairs and International Cooperation, a position he held with exemplary record. He will be sorely missed by all who knew him.
Hon. A.B.Torto is survived by his loving wife Mrs. Josephine Mamie Torto and their children; Mr. Sahr Ndappi Torto and Miss Sia Sowamanya Torto.
Relatives include the Sorgbor family, Kamanda family, Musa-Koroma family, Kpakima family, Abu family, Sam-Sumana family, Ngandi-Capio family, Bona family, Matturie family, M'bawa family, Fillie-Faboe family, Kamachiande family, Kono-Bundor family, Dugba family, Sodengbe family, Tondoneh family, Bockarie family, Fania family, Foryoh family, Mbriwa family, Kono-Manyi family, Islika family, Saquee family, Sinnah family, the Yarjah family…etc.
We joined the Torto family, Constituents of Constituency 25, the Kono Parliamentary Group, and his friends at this trying moment to console the broken-hearted especially his children. Please remember the family in your prayers during this period of grief. May his soul rest in perfect peace.
The burial will take place in Freetown on Thursday 15th October 2015.
Further enquiries:
Mrs. Josephine Mamie Torto (Wife) +447495136570
Mr. Samuel B.N.Torto (Brother) +447949481131
Mr. & Mrs. Francis Yarjah +447950522394
PC George Torto (Brother) +23276787628
Due to the urgent travelling commitment of Mrs. Torto, please forward your message of condolences to the family residence below;
209 George Lane, Lewisham, SE13 6RY
Home contact: 02088520787/07949481131