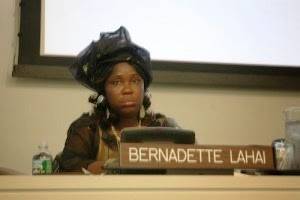 Members of the Republic of Sierra Leone House of Parliament led by its Speaker, Hon. Sheku B. B. Dumbuya Wednesday 3rd June formerly presented the Vice President-elect of the Pan African Parliament (PAP) Hon. Dr Bernadette Lahai to President Dr Ernest Bai Koroma at State House, Freetown.
Congratulating Hon. Dr Bernadette Lahai, President Koroma described the election as a very anxious moment for the country as he was very much involved in it. He referred to the tricks and manipulations from the election as lessons learnt, adding that when "we were fighting for the vice presidency of PAP, we were also fighting for the presidency of the African Development Bank".
He said the position won is neither for APC nor SLPP, but Sierra Leone and lauded parliament for the support, noting that the position has shown how the Sierra Leone Parliament has evolved to the extent that it has become more relevant now than ever. President Koroma encouraged MPs to continue to represent the country in a good light and expressed strong optimism that with the African Parliament the sky will be the limit for Sierra Leone.
The Head of State said he was in Abuja for the inauguration of President Muhammadu Buhari of Nigeria when one East African president expressed stout admiration for the unique political tolerance displayed by the government of Sierra Leone by nominating an opposition MP for the vice presidency of PAP.
The president assured Hon. Lahai of government's continuous support and encouraged her to work closely with the Ministry of Foreign Affairs and International Cooperation to ensure that Sierra Leone joins the number of countries that have ratified the protocol for the transformation of PAP from an advisory body to that of a legislative body.
Speaker of Parliament Hon. S. B. B. Dumbuya observed that President Koroma has always been positive especially with matters relating to parliament, and therefore thankful to God for having a former MP as president who is ever ready to assist them.
Newly elected vice president of PAP Hon. Dr Bernadette Lahai recalled last October when she shared her ambition for the vice presidency of PAP with President Koroma to which she said the president was very supportive. She explained that when they arrived in South Africa they hit the ground running with campaign activities as the election was not easy. Dr. Lahai disclosed that also elected from Sierra Leone were Hon Claude Kamanda to the Committee of International Cooperation and Hon. Isata Kabia to the Committee of Education.
She said that anytime a Sierra Leonean is out he/she will excel, pointing out that Sierra Leone is bigger than the political parties.