FOR IMMEDIATE RELEASE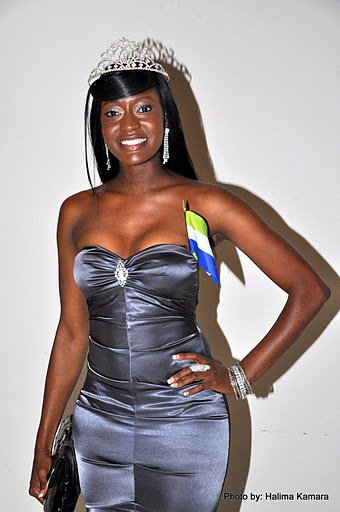 The Miss Sierra Leone USA Women's Leadership and Scholarship Pageant 2012 (a production of the nonprofit MSLDC Inc.) is honored to announce that Victoria Secrets Supermodel, Selita Ebanks, is the Pageant's Grand Chief Patron on July 1,, 2012 at the Montgomery College Performing Arts Center in Silver Spring, Maryland. As a committed champion of safe motherhood and dedicated to improving the lives of vulnerable girls and women worldwide, Selita is no stranger to global health causes. Selita is currently the Goodwill Ambassador for the maternal health program of Wellbody Alliance, which is also supported by the First Lady of Sierra Leone, Madam Sia Nyama Koroma.

"One of MSLDC's main goals is to raise awareness and strengthen capacity for the improvement of maternal child health in Sierra Leone. As such, we are delighted to partner this year with several organizations and initiatives in a three-day awareness and fundraising campaign from June 29 to July 1 to mark current advances in maternal child health in Sierra Leone and maximize investments to achieve the UN Millennium Development Goals (MDG) in this area," said Fuambai Ahmadu, Ph.D, a medical anthropologist specializing in maternal health and child development in Sierra Leone and founder of MSLDC Inc.

Since 2006, the MSLUSA Pageant has provided thousands of dollars in cash scholarships to winners as well as opportunities for contestants to develop critical self-esteem, confidence, public speaking, community service, and leadership skills. Previous winners and contestants have gone on to found their own nonprofits and charitable organizations (such as Sisters Supporting Sisters www.misssierraleone.com; Children's Empowerment Foundation www.childrenef.org; and Yehri Wi Cry www.yehriwicry.org), assisting in poverty alleviation as well as the development of initiatives in health and education in Sierra Leone, especially with respect to the girl-child.

Tickets to the 5th Miss Sierra Leone USA 2012 Pageant are now available for purchase at $30 in advance for regular seats, $40 at the gate and $50 for VIP seating and pre-show reception. Patron tickets at $100 and sponsorship packages ($300 and up) are available for admission to the June 30 Achieving Excellence in Maternal Child Health Soiree, featuring leading officials and scholars in the global and maternal child health arena. These packages also include entry into all other Pageant activities from June 29 to July 1.
Register now as seats are limited.
For more information or to register for tickets and Sponsorship Packages contact MSLDC at 202-904-0023.
Background:
In a recent UK Times newspaper report as well as Save the Children State of the World's Mothers report, Sierra Leone was cited for its advances in redressing one of the world's highest rates of maternal and infant mortality. In fact, Sierra Leone has been a poster child of success in saving the lives of mothers and is showing the world what can happen when a poor, war-devastated country, in partnership with donors and the international community, can achieve once it has made up its mind to do the right thing. The right thing in this case, as Sierra Leone has shown in the last four years especially under the leadership of the First Lady, Sia Nyama Koroma, is putting women and children first and ranking safe motherhood a number one priority.

The Miss Sierra Leone USA Pageant is partnering with the following organizations and initiatives in a three day awareness and fundraising campaign from June 29 to July 1: Wellbody Alliance Organization (www.wellbodyalliance.org), which provides reduced cost primary healthcare and community-based health programs to vulnerable rural communities and is implementing the First Lady's maternal health program; Johns Hopkins Safe Surgery and Anesthesia in Sierra Leone Initiative (SASSL), which is putting in place vital research on anesthesia equipment, training of nurse anesthetists and donating critical medical supplies and tools to save women's lives during emergency surgical procedures, such as caesarian sections; and Omega Psi Phi, which as a historic black male fraternity is committed to expanding its humanitarian programs and visibility in Sub-Sahara Africa particularly in the area of maternal child health, challenging stereotypes that this area should be left to women or women's groups alone.

The key target areas for fundraising include purchasing an ambulance for the Wellbody Clinic to transport women in hard to reach areas to the main hospital for emergency deliveries as well as financial support for the literacy program aimed at traditional birth attendants and providing basic, lifesaving equipment and salary support to local SASSL technical teams at Prince Christian Maternity Hospital (PCMH) and Connaught Hospital.

Schedule of Activities June 29 to July 1, 2012
•June 29, 7pm to 10pm: Mood Lounge Washington, DC. The talent segment of the MSLUSA Pageant Competition will take place before a large audience of young, international Afropolitan revelers and socialites. 3-5 judges will be selected from prominent Sierra Leoneans in the cultural, arts and entertainment arena as well as Omega Psi Phi fraternity. Special guest is Tiffany Persons, CEO of Shine on Sierra Leone (SOSL www.shineonsierraleone.org).

•June 30, 7pm to 11pm: Achieving Excellence in Maternal Health Soiree (location TBD) co-sponsored by Wellbody Alliance, Johns Hopkins SASSL Initiative and Omega Psi Phi fraternity. The VIP banquet will feature formal presentations of the 14 contestants' social and humanitarian platforms before a diverse audience of media, political and diplomatic dignitaries as well as leading scholars and officials in the global health sector. 3-5 judges will be selected from the global and maternal health community in the DMV area.

• July 1, 4pm to 11pm: 5th Miss Sierra Leone USA Leadership and Scholarship Pageant 2012 (Montgomery College Performing Arts Center, Silver Spring MD). This pageant will feature a special VIP preshow reception with various titleholders of other African pageants, African ambassadors, Goodwill Ambassador Selita Ebanks and so on. The 14 MSLUSA contestants will compete for the coveted crown and the winner will be the face of MSLUSA's Excellence in Maternal Child Health collaboration initiative as well as a de facto Washington advocate for Sierra Leone's effort to achieve the UN Millennium Goals in Maternal Health.