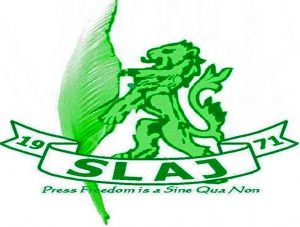 Members of the Sierra Leone Association of Journalists SLAJ who failed to pay their dues for three consecutive years are at serious risk of losing their membership status of the association by the end of May this year.
Delivering his annual report at the 19th annual general meeting held at the J&E Resort in Bo, SLAJ president, Umaru Fofanah, stated that a press release recently issued out by the secretariat reminded those in arrears that the association constitution states that anyone who does not pay their membership dues for three consecutive years stands to forfeit their membership.
"By that press release and the adoption of this address, all SLAJ members who do not pay against 31 May 2012 will be deemed to have forfeited their membership, which will be struck off the register," he said. He therefore encouraged all to pay their dues on time and not just when AGM approaches, while saying that the constitution stipulated that founding members are exempted from such payment.
Fofana maintained that the past one year has been most challenging for journalists and journalism because of the sheer involvement of the police in the brutality against journalists.
He noted that the struggle against the obnoxious criminal libel law remains daunting and that despite repeated assurance by President Ernest Bai Koroma and the association's immediate past president, Alhaji Ibrahim Ben Kargbo that the law will be reviewed-if not repealed, it still remains in bold and italicized characters in the law books.
"We will not relent in the fight against the repression that this law represents. It is a struggle we will take to all the corners of the world," he noted.
Earlier during the opening, Mayor of Bo City Council, Dr. Wusu Sannoh thanked the membership of SLAJ for choosing his township to host the meeting.
He urged journalists to report the facts as they are in their news stories and not put their own opinion on it, noting that the media is very much important to the success of the November 17 elections.
The meeting was officially opened by the Deputy Secretary in the Ministry of Information and Communications, Kwame Yankson.