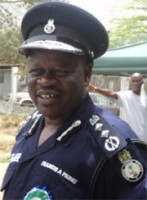 25 year old Ade Manneh is presently admitted at the Connaught Hospital Ward 5, where doctors have battled seriously to restore his health after he was severely tortured on allegations of stealing Le20 million Leones.
Speaking from his hospital bed, Ade Manneh revealed that on Thursday 3rd June he went to visit his friend "I.B." who goes with the nickname "T.I." and who resides at No. 7c Conteh Street, Tengbeh Town.
Ade said "I.B" was not around so he left and decided to instead go and see a relative. Whilst leaving the premises he said, "I.B's" Sister Zainab saw him and confirmed that "I.B" was not home then.
"I then decided to go to my aunty's house at Dillet Street where I was when I received a call from "I.B." that he is now around and that I should go and see him. So I took a taxi and went to his house. I greeted him but he ignored me and continued chatting with his aunty. I noticed they both looked worried. I then asked what was wrong."
Ade Manneh recounted that it was at this point that "I.B." informed him that Le 20 million has been stolen from his brother Chernor and so they sought the services of a sorcerer who uses needles to find out who is the thief.
Ade explained that "the sorcerer then used two needles on me and said I was the one who stole the money."
"At this point a plain clothes man named Isreal then showed me a badge saying that he was a police officer attached to the CID, but who investigations revealed is actually attached to the Integrated Intelligence Service (IIS). So he (Isreal) and Chernor (whose money was allegedly stolen) said I had to give them the money or else they will torture me and take me to police. But I told them that I was not the one and I did not steal any money."
He went on "so they took me to my aunty's house (where I had been when I.B. called me to come see him) in search of the money but they did not find the said sum. So they took me again to Tengbeh Town where the incident happened and Israel, Chernor, I.B., Sammy and a guy named Collier started beating me. Israel poured a bucket of water on me and Isreal took a hot electric iron and put it on my chest. They started beating me while I.B. was tearing my body with a razor blade."
After they had finished torturing him, Ade said they decided to forcefully dump him in a barrel containing water for some time and later they took him out again and started pouring gin, hot rub and pepper spray in his eyes "they took pictures, naked picture of me and posted it in "what's app" to my friends."
"They told me if I refuse they are going to inject me with acid and I will be in pain till I die, it was at this point that I said the money was at my house. I did this so that they can take me to my house so that my mother will be aware."
He explained that they drove with him in Israel's Benz car and they happened to meet "my mother who told them to search the house but she was not sure if there was any money in the house because since I left in the morning hours I did not return again. They searched the house but found nothing so they decided to take me to Tengbeh Town it was night now."
Ade Manneh explained that while they were going, as soon as they got to Syke Street he tried to jump through the window because he did not know what they were going to do to him when they get there. Unfortunately he said he was caught and this time to continue the journey they tied him with a stick between his legs preventing him from running away.
The victim stated that around 10pm they took him to OSD headquarters where they refused to detain him because of his condition and they were advised to take him to the Congo Cross Police station. Again at the Congo Cross Police station "they refused to take me so they took me again to Tengbeh Town and I had to spend the night at the back of Chernor's house. Early in the morning Chernor started hitting my knee with his weigth lifting iron and Israel shaved my head."
Ade Manneh stated that when Israel (the police officer) heard that my parents had reported the matter to the police he decided to take me to the CID Headquarters but they also refused to take me in so they handed me over to my family who took me to the hospital.
Since the incident happened it was only on Thursday 9th July that some CID officers went to the hospital and obtained a statement from him.
Police spokesman Supt. Samura cpould not be reached on the phone for his comments. However, CID officials confirmed that the matter had been reported to them and that the complainant (Chernor) had been detained for two days but was granted bail last Friday. Head of the Complaints Discipline and Internal Investigations Department (CDIID) Chief Supt. Shyllon confirmed that his office was aware of the incident, and told this reporter that the Police officer Israel Lamin had been suspended from duty and was presently detained.
Assistant Inspector General of Police Philip Wellington in-charge of Corporate Affairs also confirmed that police authorities were aware of the incident and that action had been taken.
Human Rights activist Ibrahim Tommy who is Director for the Centre for Accountability and Rule of Law (CARL) remarked that "This requires a thorough and comprehensive inquiry to ensure that the Police Officer who allegedly participated in this torture should be held accountable. We will follow the investigation and I expect the leadership of the Sierra Leone Police will ensure that justice is done."
Questions are however being asked as to why Chernor was allowed out on bail given the severity of the medical situation of the victim?