After a week of successful Commonwealth Summit in London, His Excellency President Julius Maada Bio has arrived in Doha, Qatar on Saturday 21st April 2018 for a state visit on the invitation of the Emir of Qatar, Sheikh Tamim Bin Hamad Al Thani.
The state visit by His Excellency is expected to focus on a bilateral discussion focusing on Education, Agriculture, Trade and Investment, youth employment, tourism and a range of other issues.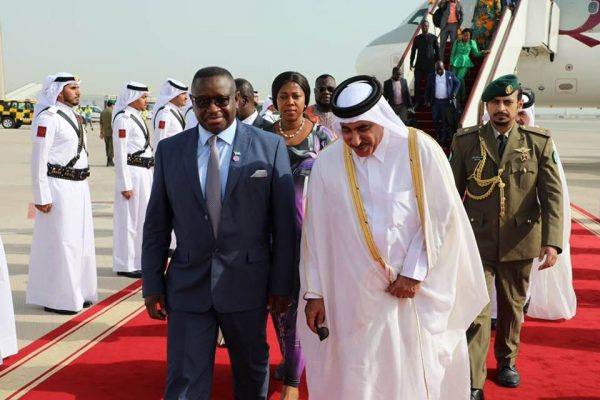 In a bid to attract investment and trade to Sierra Leone, His Excellency is expected to meet with the Qatar Chamber of Commerce and Industry later in the evening on Saturday 21st April 2018. The meeting is an indication of His Excellency's continued efforts to revitalise our economy. After the meeting with Chamber of Commerce, President Bio will be hosted by the Qatar Minister of Foreign Affairs for an official welcome reception.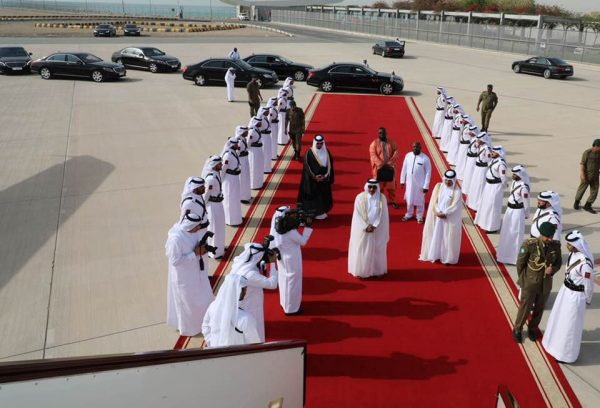 The President is expected to meet with His Highness, The Emir of Qatar, Sheikh Tamim bin Hamad Al Thani on Sunday 22nd April 2018 where bilateral meeting will be held between the two Heads of State. His Excellency will be expected to express his appreciation to the Emir and people of Qatar for their support to Sierra Leone over the years and discuss how his new Government will strengthen the bilateral relationship.
Over the years, Qatar has been very supportive to Sierra Leone providing humanitarian, medical and relief assistance to Sierra Leone when the country was hit by floods and Ebola. The diplomatic successes of President Bio in less than three weeks in office has shown a great President admired at home and abroad.