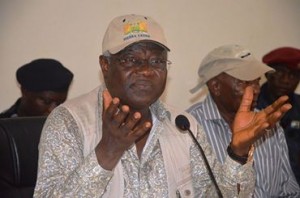 As he continues his psychosocial mobilization to give a final push to the waning Ebola virus disease, President Ernest Bai Koroma Friday 20 March, 2015, praised the people of both Kailahun and Pujehun districts for their vigilance in the fight to break the chain of transmission of the disease in their respective districts.
He paid this tribute while addressing traditional and religious leaders, heads of cultural and traditional societies, councilors, members of parliament and other stakeholders at the Kailahun court Barry and Pujehun District Council hall respectively.
Kailahun has gone for 100 days without recording a single case of the disease and Pujehun has also gone for 113 days without an infection. The president therefore encouraged them to remain vigilant in their surveillance along border crossing points with both Liberia and Guinea. "Ebola has not finished yet", he warned.
President Koroma described Ebola as a disease with tricks, and urged the people to continue with monitoring of communities and avoid practices such as secret and unsafe burials.
He also implored them to maintain the momentum of sustaining more than 100 days without recording new confirmed cases of the virus in both districts. The president added that efforts by both Kailahun and Pujehun have made everybody to be proud of them while disclosing government's plans of rolling out post-Ebola recovery programmes, including the reopening of schools.
The Head of State urged the committees in charge of the reopening of schools to ensure that teaching and learning materials meant for the proper resumption of educational activities are judiciously utilized.
President Koroma assured all that after the Ebola outbreak both health and education sectors will be significantly improved. He assured the people of Kailahun that the road construction will not stop at Pendembu but will continue through the border between Liberia and Sierra Leone.
He also promised the people of Pujehun to receive a special package for leading the fight to getting to and remaining zero.
The chief social mobilizer disclosed that government will make special provision for pregnant and lactating school pupils to encourage them to continue their education.
On arrival in Kailahun, President Koroma visited and inspected facilities at the Under Five clinic in the district, and also inquired to ascertain if patients were receiving treatment and drugs. They replied in the affirmative.
Minister of State – East Maya Kaikai recalled that during the early period of the outbreak, President Koroma visited Kailahun under very unfavorable weather conditions, which he said clearly manifested his love and dedication to serving the people of Kailahun.
Mr. Kaikai said Ebola has been disgraced and shamed in Kailahun but warned against complacency as other districts are still recording new cases.
On behalf of the paramount chief of Luawa, chiefdom speaker Mohamed Lamin Vonjo Ngobeh lauded the decision by President Koroma to appoint Ambassador Victor Bockarie Foh as Vice President of Sierra Leone.
In Pujehun, Paramount chief VB Kebbie and the Chairman of the opposition SLPP dominated District Council Sadiq Sillah commended the president for appointing one of their own as the country's new Vice President.
The president and entourage returned to Freetown yesterday Friday 20 March.