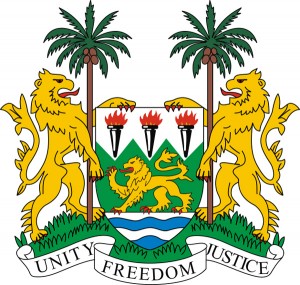 OFFICE OF THE PRESIDENT
STATE HOUSE
TOWER HILL
FREETOWN
PRESS RELEASE
DEATH OF MRS. ALICE R. KOROMA, MOTHER
OF HIS EXCELLENCY THE PRESIDENT
THE ATTENTION OF THE KOROMA FAMILY HAS BEEN INVITED TO A CIRCULAR
MEMORANDUM ADDRESSED TO ALL PERMANENT SECRETARIES AND PROFESSIONAL HEADS BY THE SECRETARY TO THE CABINET AND HEAD OF THE CIVIL SERVICE SOLICITING FINANCIAL CONTRIBUTIONS FROM MINISTRIES, DEPARTMENTS AND AGENCIES TOWARDS THE FUNERAL OF THE LATE MRS. ALICE R. KOROMA.
THE GENERAL PUBLIC IS HEREBY INFORMED THAT THE KOROMA FAMILY DOES NOT ENDORSE THE SOLICITATION OF FUNDS FOR THE FUNERAL OF THEIR LATE MOTHER AND WAS NOT CONSULTED PRIOR TO THE CIRCULATION OF THE MEMORANDUM UNDER
REFERENCE.
WHILE THE KOROMA FAMILY TRULY APPRECIATES THE SINCERE CONDOLENCES THAT ARE BEING EXPRESSED BY INDIVIDUALS AND ORGANIZATIONS, IT ALSO FULLY RECOGNISES ITS SACRED DUTY TO TAKE FULL RESPONSIBILITY FOR THE FUNERAL
OF THE LATE MRS. ALICE R. KOROMA.
THE FAMILY WISHES TO EXPRESS SINCERE THANKS AND APPRECIATION FOR THE OVERWHELMING SUPPORT IT HAS BEEN RECEIVING FROM ALL SECTIONS OF THE COMMUNITY DURING THIS TIME OF SORROW AND GRIEF.
PRESIDENT'S LODGE
HILL STATION
FREETOWN
E N D , 11TH JULY, 2012