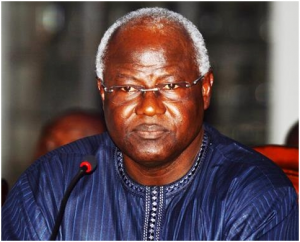 Sierra Leone's President Ernest B. Koroma will arrive in New York on Thursday to attend a high-level summit at the UN Headquarters despite a planned protest against him by Concerned Sierra Leoneans USA.
"UN Secretary-General Mr. Ban will convene the conference on International Ebola Recovery on July 10 bringing together the three affected countries, the United Nations and the international community," David Nabarro, Un Secretary-General Special Envoy on Ebola said in a statement responding to an inquiry for this story.
"The purpose of the conference is to focus on targeted investments for the three countries in order to support recovery priorities. There will be an initial focus on early recovery over a 24 month time-frame."
The Conference comes on the hard heels of Ebola resurgence in Liberia where 4 new confirmed cases were reported since June 29 almost two months after the World Health Organization declared Liberia was Ebola free on May. Sierra Leone also reported 8 new and Guinea 12 cases, respectively during the same period.
As of June 26, an overall total of 27, 514 confirmed, probable and suspected cases of Ebola were reported in Guinea, Liberia and Sierra Leone and 11, 220 reported deaths, according to an External Situation Report issued by the UN Mission for Ebola Emergency Response (UNMEER).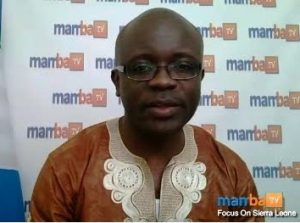 Concerned Sierra Leoneans USA (CSL), a pro-democracy group in the Diaspora that has staged 3 previous demonstrations against President Koroma to give account of missing Ebloa funds and to reinstate Vice President Sam Sumana, issued a press release announcing another protest campaign during the Conference on Friday at the Dag Hammarskjold Plaza near the UN Headquarters.
Mustapha Wai, Chairman, Executive Board, CSL said as part of his organization's contribution to the Ebola recovery effort they are undertaking an Ebola Recovery Campaign to bring awareness and educate the public.
"This campaign is intended to engage the international community as well as the Sierra Leone Government in ways that will ensure that the recovery efforts meet the imperatives to build back effective, inclusive and resilient institutions and decentralized services," he said in a statement via face book chat.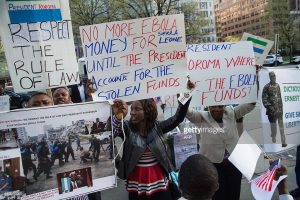 When asked what is the Ebola Trust Fund aggregate total and how funds are disbursed based on Mr. Wai's assertion, UN Special Envoy on Ebola, Nabarro said "USD 141 million has been deposited in to the Secretary General's Multi-Partner Trust Fund which includes money raised in 2014 and 2015. Of this, USD 129 million has been disbursed so far to support a range of activities including logistical operations, epidemiological surveillance, as well as social mobilization and community engagement."
"The funds support implementation of national priorities and are routed through UN system agencies. The Fund is overseen by an advisory committee which includes representatives from the Governments of the three affected countries and of the contributing donor representatives," Mr. Nabarro said.
Meantime, Sierra Leoneans for Peace in America and members of the ruling All People's Congress (APC) are planning a counter rally in support of President Koroma at the same venue.
"The so-called Concerned Sierra Leonean USA, are being disrespectful ridiculing the president in the eyes of the world. Though, they have a constitutional right to disagree with some of the government policies but this blatant disregard and contemptuous attitude towards the government and the people of Sierra Leone does not benefit their objectives," said Samuel Gbalo Koroma, President of APC/New York Chapter who is organizing the counter-rally.