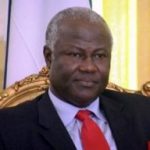 At the official launching ceremony of the national security exercise and second sector review yesterday at the Miatta conference hall in Freetown, President Ernest Koroma disclosed that there is a new wave of international security threat that requires new strategy to handle it. In his keynote address the President maintained that his government believes there must be a well funded, well trained and a non-political security that carries out their duties effectively.
He went on to say that there exists a gap within the security sector that needs to be addressed, adding that there is new wave of international security threat that requires new strategy to address it. He noted that the exercise and review should look into ways of tackling those international threats, stating that the tool to curb the threats is to conduct periodic exercise and review within the security sector. He maintained that security is crucial to national development as it enables the country to conduct peaceful elections that would improve the image of the country.
"I ordered the national security review so that the general public will understand security issues in the country" he said adding that the conduct of both the exercise and review would enable the government to identify lapses within the security sector. He therefore urged all those taking part in the security review to give their best, pointing out that his government is poised to maintain peace and security throughout the country. The Chief of Defense Staff, Brigadier Yirrah Koroma said that the training and periodic rehearsals would enhance the proficiency and capacity of the military and other security, that would help develop the physical and intelligence of personnel.
He furthered that the regular conduct of the review would create a learning culture within the security organizations. The Inspector General of Police Francis Munu observed that criminals don't have regard for international boundaries, maintaining that the security sector needs to be strengthened to actually tackle security threats at both local and international levels.