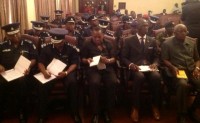 President Dr Ernest Bai Koroma on Monday 6th January said that he will continuously engage with various institutions that are responsible for maintaining law and order in the country, including churches, mosques and civil society groups.
He made this statement during a high level meeting with a cross-section of cabinet ministers, members of the security sector, the leadership of parliament, the Chief Justice, Mayors and Chairmen of councils.
According to President Koroma, the meeting is a new approach to the governance of the country, and highlighted some of the challenges facing the country with respect to law and order, discipline and corruption.
The president admitted that there were still challenges despite the great efforts being made by government to develop and transform the country. "We have to take an inward look at ourselves and accept that we still have challenges and take steps to address them. It's not about party politics or tribe or region. It's about Sierra Leone moving forward. Even the most advanced nations have challenges. We have problems that are unique to our own circumstances. I hope the address I made in parliament will be read and digested by everyone so we can work together to get the job done", he emphasized.
President Koroma also underlined the need to continue to improve on the targets set by government in the implementation and commissioning of projects in roads, electricity, the health and educational sectors as well as the private sector.
"We have started the journey to become a middle-income country and everyday now counts with respect to the efforts we have made towards achieving a middle income status in the decades ahead", the president insisted.
He urged all and sundry to scale up efforts in fighting recklessness and minimizing corruption, saying that government has put in place structures to get the job done. "The law must be implemented without regard to status or political connection", he warned.