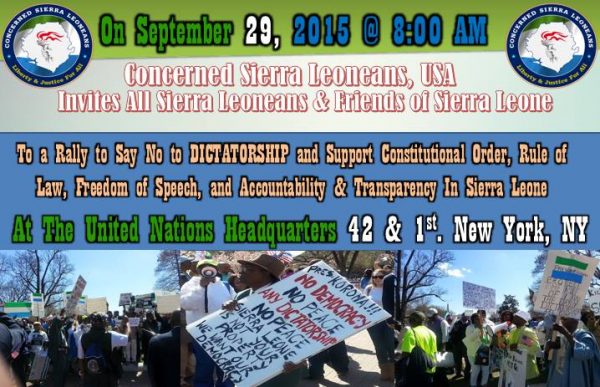 When Sierra Leone's President Ernest B. Koroma delivers his address on Tuesday at the 70th Session of the United Nations General Assembly (UNGA), he will face a concerted protest by Concerned Sierra Leoneans USA (CSLUSA).
In an invitation to Sierra Leoneans in the USA to join Tuesday's protest outside the UN Headquarters in Manhattan, CSLUSA outlines the following grievances as the basis for their scheduled demonstration, the fourth such action against President Koroma.
The removal of elected vice president Sam Sumana from office and subsequent ruling by the Sierra Leone Supreme Court in favor of the president's action to remove Mr. Sumana which they describe as a manipulation and "clear defiance of the stipulations in the constitution."
CSLUSA also points to the Koroma's administration inaction "to bring to book" government officials who mismanaged or embezzled "a large chunk of funding collected for Ebola response," according to
"Concerned citizens have the right to demonstrate and it is their discretion. They have been doing it for the past couple of months but nobody seems to take them seriously because their views on most issues back home are not in sync with the realities on the ground," said Abdulai Bayraytay, Sierra Leone Government Spokesman and National Publicity and Outreach Coordinator in his response to an inquiry on whether President Koroma is concerned about CSLUSA's planned demonstration.
Bayraytay also added that "As some are reported to be politicians, it becomes nauseatingly disingenuous on their part to hide under cloak of "citizen's activism" whilst carrying out unwarranted opposition and demonstrations against President Koroma who hitherto continues to enjoy the political endorsement of majority of Sierra Leoneans both at home and abroad."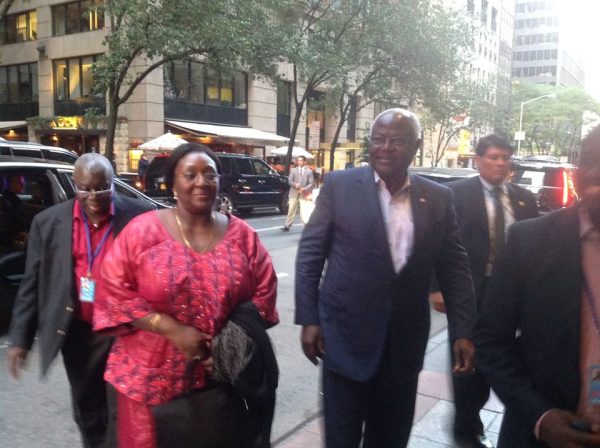 He said he expected CSLUSA to have taken advantage of "the right to access of information"   legislated by the Koroma administration "to get their facts right" rather than relying on hearsay, trumped up insinuations and social media especially Whatsapp to embark on such demonstrations.
Speaking on the government's achievement, the shrewd Government Spokesman said if CSLUSA would have done their research better rather than embark on demonstrations "they would have doffed their hats to the government and stoutly congratulate President Koroma for continuing to espouse the values of democracy and good governance as well as promoting the ideals of transparency and accountability in governance.
In spite of that, CSLUSA lambasted President Koroma claiming he traveled to New York with a 50 man delegation attend the 70th UN General Assembly. They say 50 officials at an average cost of about $10,000 US Dollars per person is a downright waste of badly needed funds coming from one of the world's poorest countries where resources are extremely limited.
"More disturbing is the fact that this comes at a time when over 10,000 of the country's most vulnerable have been displaced by flooding and are currently languishing in the open at the nation's main soccer stadium with limited supplies. We find these actions to be a blatant disregard of the rights of the people," CSLUSA said in a statement.
As of press time, Bayraytay has not responded to an inquiry to verify the number of officials in President Koroma's delegation that arrived Saturday in New York nor did he respond to what issues President Koroma will address during the debate on Tuesday.
But on the flood victims he said "We have secured over 200 acres of land at Waterloo and 6 mile for the construction of permanent housing facilities for the flood victims as well as those that continue to live in vulnerable slum communities. So far government and its development partners are gingering up efforts for the clearing of the land next Friday so that construction work can commence immediately," Bayraytay said.
Mustapha Wai, Founder and Chair of CSLUSA said in a comment for this article that "CSLUSA is also considering options to sue President Koroma and the Government of Sierra Leone in the Economic Community of West African States (ECOWAS) Court and other jurisdiction available to us."