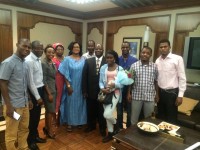 The establishment of a full Sierra Leone diplomatic mission in the United Arab Emirates (UAE) has finally become a reality with the arrival of Sierra Leone's Ambassador-Designate in Abu Dhabi on Wednesday, 27th August 2014.
In an unprecedented national move, the Sierra Leone nationals in the UAE led by their President; Ibrahim Talleh Bah warmly received His Excellency, Siray Alpha Timbo at the Abu Dhabi International Airport.
On his behalf and that of his family, President Koroma's new envoy thanked each and every Sierra Leonean for the efforts they exerted to be present at the airport.
He further conveyed the warm greetings and appreciation of H.E, President, Dr. Ernest Bai Koroma to the Sierra Leone community in the Emirates and stated that the President is aware of the fact that there are hard working and law-abiding Sierra Leoneans resident in both the official capital of UAE, Abu Dhabi and the commercial city of Dubai.
He further informed that the Sierra Leone Government has realized the urgent need to establish an embassy for its citizens in the United Arab Emirates given UAE's increasing importance in the world, both economically and politically.
Previously, the Saudi mission in Riyadh was accredited to the UAE. However, Sierra Leoneans in the UAE had been sending their documents to Saudi Arabia for consular services – passport renewal and document attestation.
In his brief address to his nationals, he made it abundantly clear to all and sundry that he has been honoured with the ambassadorial appointment to the UAE in order to seek the interest of his country and to serve the Sierra Leone nationals resident in accordance with the laws of the country.
The newly appointed envoy also hastened to declare that his mission in the UAE is not to represent a particular political party; but, rather, it is to serve Sierra Leone and Sierra Leone nationals in the UAE, irrespective of their political, regional and tribal affiliations.
In a nutshell, he said he is an ambassador for all, without the least discrimination. On a special note, he appealed to all his nationals in the UAE to help him succeed. "My success is your success and our success is our country's success. Let's join forces to promote the image of Sierra Leone in this part of the world," Ambassador Siray Timbo, the first Sierra Leone's resident Ambassador in the oil-rich Gulf state told his nationals at the VIP Al – Dar Lounge of the airport shortly after arrival.
Before his appointment, the soft-spoken Ambassador was the Special Envoy of His Excellency, the President of the Republic of Sierra Leone to the UAE, Gulf Cooperation Council (GCC) and the Middle East from 2009 up to the time of his appointment. Mr. Timbo was also the Chairman of the Presidential Implementation Committee on Investment and Development (PICID). He was handling matters relating to Trade, Investment, Tourism, Economic and Industrial Development within the G.C.C. and the Middle East.