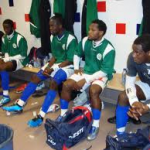 The perennial problem of the Sierra Leone Government always not having sufficient money for sports associations in this country to meet their international financial contributions and other obligations, has resulted in the country not participating in this year's 10th edition of the All African Games. The Games are slated for the 3rd to 19th of this month in Maputo, Mozambique. This is the second time that Sierra Leone has failed to participate in the All African Games.
Four years ago, Sierra Leone was unable to attend the games in Algeria because of the debt owed to the Supreme Council of Sports in Africa.
This time again, it is the same debt that has denied Sierra Leone the opportunity to participate in the Games, even though the Supreme Council of Sports in Africa had given concession to countries that owed over the past years a huge sum, to just pay for the last four years which is U$ 52 thousand dollars; two thousand dollars as registration for the Games, but still Sierra Leone Government did not pay the amount.
And apart from the debt, government is also supposed to pay air tickets, provide allowances for the delegation which adds up to over two hundred and eighty-five thousand US dollars (U285, 000). The reason for that, according to an inside source at the National Sports Council, is because the Sports Ministry has paid more attention to the Leone Stars Vs Egypt clash.
The source also stated that the budget for the Leone Stars Vs Egypt clash is more than the budget for the All African Games, but government was able to meet with the Leone Stars' budget.