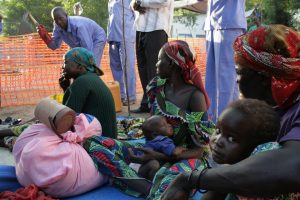 Secretary General of Saudi Arabia's based Inter-Governmental Organisation, the Organisation of Islamic Cooperation (OIC) has called on its 57 Member States and the International Community at large to urgently extend humanitarian assistance to Sierra Leone following the outbreak of one of the worst cholera epidemic in the country.
In a Press Release issued by the OIC this week, Prof. Ekmeleddin Ihsanoglu expressed concerns that the disease, which is curable and preventable could contaminate more people unless safe drinking water, adequate sanitation, quick and effective medical care were readily available to the people.
The Turkish-born OIC Chief also noted that 224 deaths have been recorded and more lives remained at risk with the advent of heavy rains in the months of September and October 2012.
The OIC Secretary General reiterated his support to Sierra Leone, adding that, the country has been undergoing a rebuilding process more than a decade after a long period of civil strife. The learned Professor also urged all OIC humanitarian stakeholders to provide the much needed relevant medicines and medical equipment to Sierra Leone in its efforts to fight this deadly disease.
In a related development, the Sierra Leone delegation in the just concluded preparatory meeting for the 39th Session of the Council of Foreign Ministers (CFM), has appealed to the OIC Member States to come to the rescue of Sierra Leone at this hour of urgent need.