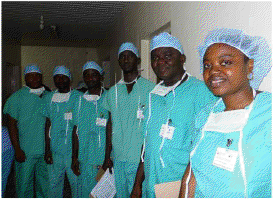 As I approached the Dulles International Airport gate for my flight to Brussels (where I would transit for another flight to Sierra Leone), I was stunned that all the seats were taken.
My eyes scanned the waiting area for the telltale signs of an outlet, tracing any accumulation of laptop cables coming from one direction. I walked over to one pole where I saw cell phones, ipads and all sorts of electronics plugged up to all the available outlets… and frowned.
I looked around for an available seat, at least to rest my legs and use whatever battery time I had left on my pink acer mini notebook. An attractive African-American gentleman looked up at me from his seat and seemed to sense my discomfort and slight annoyance. He lifted the backpack that took up its own seat next to him and pointed me to the empty space.
I smiled, finally. "You heading for Brussels?" he asked. I noted his purple bracelet, Omega Psi Phi. My mind flashed back to some of the fine Omega fraternity brothers from way back when I attended a private, predominantly white university in Washington, DC.
These were the kind of guys me and my African and Caribbean friends would see at the club on Saturday night but dare not speak to; we simply weren't worthy of such black male fineness back then (or so some of my girls commiserated): Definitely not uppity enough to even look in their direction.
So, we stuck with the slick-haired, well-dressed, limited English speaking European and Middle-Eastern guys who were into just about any sister, especially direct from the sub-continent (our African brothers were busy pursuing white girls…).
"Yes," I replied. "But only transiting." "Oh, well me too… you can sit here," he seemed to declare with pride. "Thanks," I said and sat down obligingly.
"So, what's your final destination?" He probed. I hesitated for a moment. I hadn't really anticipated a conversation at the gate while awaiting my flight. I tell him where I'm going, that's going to lead to more questions, I thought. Then, I'll have to tell him where Sierra Leone is or explain to him that our country's brutal civil
war and hacking off of limbs of innocent civilians for diamonds has ended. "I'm going to Sierra Leone". I finally stated. "Oh, really… so am I," the gentleman responded with a curious smile.
He's got to be kidding, I thought. How is it that this African-American brother sitting over here with his fancy ipad plugged into the wall post and an Omega Psi Phi wristband is going to Sierra Leone? "You are?" I asked, also curious. I smiled too and turned to give him my full attention.
"Yeah, I'm going to Sierra Leone. What are you going for?" He asked, perhaps trying to figure out my story as well. "Well, I'm heading to a biomedical conference… I organized a panel discussion." "Oh yeah… I'm going to a biomedical conference too. I was invited." He nearly laughed, clearly seeing my surprise."
"Are you serious? There can only be one biomedical conference – organized by the Sierra Leone Health and Biomedical group… do you know Dr. Chris Taylor from NIH [National Institutes of Health]?"
"Yes, in fact, he invited me". He reached out his hand. "My name is John Sampson, I'm from Johns Hopkins medical school and am interested in exploring prospects for research or medical missions in Sierra Leone."
"How fascinating! My name is Fuambai or you can call me Sia, it's much easier. I'm a medical anthropologist. I use to work at NIH as well and I know Chris Taylor very well. I've been helping out with the biomed conference for a couple of years now… such a pleasure to meet you." I shook his hand.
And so this first encounter led to a series of meetings and development of a professional friendship with Dr. Sampson, lead director of the Safe Anesthesia and Surgery in Sierra Leone Initiative (SASSL) as well as the other team members of the project.
Through this initial contact, I immediately seized the opportunity to help facilitate the SASSL initiative. As part of my (unremitted) role as a public health advisor at the Office of the Vice-President, I assist individuals like Dr. Sampson to navigate the red tape and cultural terrain to implement health initiatives and programs that not only benefit the people of Sierra Leone but connect us to important academic and research institutions like Johns Hopkins, which lead to future partnerships and collaborations.
So, what is SASSL? This initiative consists of three main parts: First, the testing of a state-of the art anesthesia machine manufactured in the UK that was specifically designed to meet the needs of resource poor countries like Sierra Leone that experience problems with power outages, lack of oxygen supply and climatic conditions that challenge equipment longevity; second, contributing to the training of nurse anesthetists and other operating room staff through collaborations with a system that is already in place and funded under the UNFPA; and finally, donating thousands of dollars worth of medical equipment such as multi-function cardiac monitors for the operating rooms and recovery rooms which are vitally needed by hospitals in Sierra Leone.
The initial stage of SASSL is taking place at Prince Christian Maternity Hospital (PCMH) and Connaught Hospital, both based in Freetown.
In the case of SASSL, my small contribution has been not only to assist implementation but also to ensure that Sierra Leone derives long-term benefits from the initiative – for example, supporting a proposal for an integrated program of anesthesia training within the medical school curriculum at COMAHS.
This measure is important to ensure that in the future we have a ready supply of anesthesia doctors (in addition to the increasing number of trained nurse anesthetists) which would significantly improve emergency medicine in Sierra Leone.
Also, in promoting the research component of the initiative (testing the adaptation of first rate anesthesia machines to meet the needs of the local environment) we make way in the improvement of surgery in resource poor countries like Sierra Leone generally and hopefully to set the stage for further clinical studies in other areas of public health.
Collaborating with the SASSL team has enabled me to witness first-hand the dire straits of so-called emergency care in Sierra Leone – one of the reasons why so many women die giving birth.
With the lack of adequately trained medical professionals to handle anesthesia delivery, this affects the care of women who require emergency caesarian sections during childbirth.
Dr. Sampson could recount personal experiences and shocking stories of his medical research team in Sierra Leone but prefers to focus on the fantastic progress that Sierra Leon doctors, nurses and other staff have made in bringing Sierra Leone's healthcare system from its initial post-war status of devastation to a its current position.
Although the current status of its key hospitals is far from ideal Dr. Sampson recognizes that the heroic sacrifices that that have been made by medical leaders such as Dr. Kamara at Connaught Hospital, Dr. Koroma at Prince Christian Maternity Hospital and Dr. Bash-Taqi from the Ministry of Health and Sanitation has kept things going, made measurable improvement and has collaborated with Dr. Sampson's team from Johns Hopkins to work towards improvements in the safety of anesthesia and surgery in Sierra Leone.
There are many painfully tragic events that take place within the Sierra Leone healthcare system which result in preventable agonizing and painful deaths of mothers and children. Likewise, the unnecessary deaths of Sierra Leonean men who may have reversible surgical conditions leave a void in the community and within the lives of the families that they are a part of.