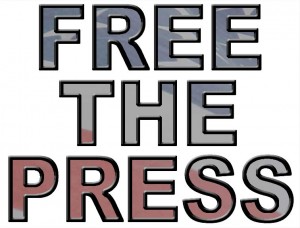 It is a sad truth of journalism that journalists are often liked best when they are at the worst, and disliked most when they are at the best. Or, at least, that seems to be so in the often rocky relationship between the media and those in authority, whether in government, big business or community service.
Very few governments like a free and unrestrained media. They dislike the media when it criticize their policies or performances, they despise it when it give voice to opposing views and they absolutely loath it when it expose corruption and secrets in their own ranks.
Ironically, of course, politicians in opposition usually love the media when it's doing the best work. It is only when they get into government and policy making bodies that these same politicians and community leaders suddenly see how awful the media really are.
It's also ironical that while journalists struggle to defend the voiceless, lack of understanding of journalistic vocabularies and methods used to present the cases often lead the perceived victims to turn against the press more that the perpetrators. The best journalist therefore needs no open friendship.
To be fair, some political leaders and decision makers acknowledge that the media, for all our faults, play a vital role in society. Sadly enough, those who fight with tooth and nails for press freedom in one political era are ironically seen or heard chanting "crucify him" against press freedom in another era. Those who doesn't have the ability to attack the press physically, does so by spreading false information against pressmen in order to tarnish their heard earn reputations. Those who have little or no ideas as how to react to the media, resort to threaten pressmen with legal actions and indecent expressions forgetting to recall Nelson Mandela's advise to his fellow South Africans after they conquered the apartheid rulers: "heroism is not to eliminate those you dislike, but to live with them".
As Sierra Leone prepares to re-elect or unseat President Kororma by mid next month, politically motivated individuals in countries round the globe are now emerging with conflicting pieces and ideas for or against the system they are badly thirsty to become part and parcel of. Some are vying to bulldoze their ways into open forums with vigorous accusations against objective pressmen forgetting to realize the fact that its timely to remember the words of one of America's greatest 20th Century Presidents, John F. Kennedy, who said of media freedom: "There is a terrific disadvantage in not having the abrasive quality of the press applied to you daily. Even though we never like it, and even though we wish they didn't write it, and even though we disapprove, there isn't any doubt that we could not do the job at all in a free society without a very, very active press."
Some are contradicting themselves with their own pieces authored on different days and times.
Don't they know that the world is like a mirror, if you face it smiling it will smile back to you, but if you face it with lies, it will lie back to you?
It is therefore alarming for everyone – not just journalists – to think that media freedom might actually be in decline throughout the world. Even those who migrate from developing countries to developed communities in search of greener pasture (particularly Sierra Leoneans), who supposed to learn the golden ethic of media freedom and pass it on to their compatriots at home, are unbelievably against freedom of the press as long as publications are not in their best interest. But with the rapid improvement in information technology, a subject some of us are dinning and dwelling with, we are going to leave no stone unturned to make sure that the European pattern of press freedom is being perfectly imported to post war Salone.
One doesn't have to look far for evidence, whether from China's unashamed breaking of its promise of media freedom during the Beijing Olympics to the Australian Government's draconian laws on reporting terrorism. What we should be looking at as our common object of definition is the way and manner we badly want to see our favorite candidates in the forthcoming elections, for example, are being hailed with falsified evidences in the world stage, and how fast we want to see our opponents be chastised and molested in the eyes of the world, no matter how ridiculous some of our claims are.
This simply tells that selfish Sierra Leoneans are apt to physically attack freedom writers like the Chinese if unchecked. This is why Critique Echo will never bow down to any misguided information disseminated for or authored by people who doesn't even have the infinitesimal knowledge of the logics behind our editorial pieces.
While some issued against us threatening remarks for what they call "meddling" into their affairs, others describe us as agents of APC/SLPP which is a very unusual combination in the sierra Leonean history. We enjoy this accusation as a sign of independent and unbiased journalism.
What they haven't, but they need to understand however, is the fact that the more we receive such accusations and threatning remarks, the more we grow tenacious in our quest to defend press freedom. We would therefore like to seize this opportunity to remind those ferocious attackers that we always have full control over the characters, sentences and paragraphs we plot and shall ever stand by them – even in a real court of law.