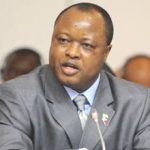 The Vice President Alhaji Sam Sumana has been named in the past Saturday's shoot out in the diamondiferous district of Kono. Reports have it that the Minister of Internal Affairs, Hon. Musa Tarawally was to attend a funeral ceremony of the late Miss Yei Sitta Gbondo in Kono when he was attacked by youths loyal to VP Sumana. The Kono youths were reportedly wearing a white T-shirt with an inscription: 'In Solidarity With Chief Sam Sumana (VP).' According to our source, the youths barricaded a junction called Gunpoint in Kono and when Minister Tarawally materialized at the scene they started pelting stones at his convoy, which included his Honda Pilot Jeep with Registration Number: FLX 001 and a Prado Government vehicle with Registration Number AET 326, with its back windscreen smashed.
Among those who sustained serious injuries were the National President of Bike Riders Association (BRA), Mr. Daniel Tucker, Mr. Momoh Banya an aide to Minister Tarawally, Mr. Mohamed French, Mohamed Komeh and Mustaph Kamara, Task Force members.
Addressing the press in Kono, Minister Tarawally disclosed that he was attacked by group of thugs, wearing T-Shirt with the inscription of VP Sumana and that they attacked them in the name of VP Sumanan.
According to Minister Tarawally, the youths were also instructed to burn down the residence of the Kono District Chairman (KDC), Lady Diana Konomanyi. He added that could identify all those who attacked him if seen. He further disclosed that he lost his Nokia N7 mobile phone valued at $200,000, adding that 9 motor bikes were stolen by VP Sumana's youths. Minister Tarawally blamed LUC Max Kanu for the unfortunate incident as according to him LUC Max Kanu, initially assured him of his security but that he was surprised as no security measures were in place. The Minister underscored that it was unfortunate and disheartening more so when accusing fingers are pointing directly at the VP for being behind the attack.
"I will seek legal redress for this unfortunate situation to save other Sierra Leoneans from becoming victims of such circumstances," said Minister Tarawally.
On her part, the KDC Chairman, lady Diana Konomanyi said the issue of who to become Running-Mate to President Ernest Bai Koroma lies squarely on him (the President), stressing that there was no plans to unveil Minister Tarawally as the would be Running-Mate to Ernest Bai Koroma as wrongly perceived by the attackers.
The police, she said, are now investigating the matter and those that would be found wanting will be punished irrespective of their status in society as according to her, nobody is above the law.