By David Krueger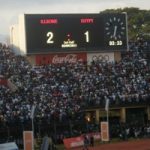 Eighty-eight minutes into Sierra Leone's African Cup of Nations game on Saturday night looked like the Stars and Pharaohs of Egypt were on their way to a 1-1 draw, hurting the Stars' chance of advancing in the CAF. Then Mohamed Bangura made sure Sierra Leone's night had a happy ending.
With the home crowd going crazy, Bangura calmly blasted a penalty kick past the Egyptian goalkeeper to give Sierra Leone a 2-1 victory over the Pharaohs Saturday night at the National Stadium and boost its hopes of qualifying for next year's finals. "I'm so happy," Bangura, popularly known as "Poboski" said after the game. "We have been suffering for a very long time."
Sierra Leone struck first in the 14th minute when Sheriff Suma, who plays for Azerbaijan's FK Ravan, kicked a corner kick that spun toward the Egypt goal. It appeared to deflect slightly off a Pharaoh defender and into the net to give the Stars the early lead and sending the National Stadium into its first major celebration of the night.
That lead held for 30 minutes until Egypt equalized right before halftime, after goalkeeper Christian Caulker blocked one shot the deflection landed right in front of an Egyptian player who was able to flick it into the goal. In the second half, the Stars had a few scoring chances, including one stretch where they had four corner kicks in two minutes. But the draw remained until the final two minutes when Bangura received a pass and began driving toward the Egypt goal.
He got past one defender and was preparing to make a move on a second when he was taken down from behind. Immediately, the referee signaled for a penalty kick as the crowd of well over 40,000, and probably closer to 50,000, jumped out of their seats. Nothing could be heard but screaming and that trend continued after Poboski fired the ball past the diving Egyptian goalkeeper. Fans began to run onto the field during the final minutes of the game and were tackled by security. The last whistle finally blew and the celebration continued as players and coaches ran off the field. In the locker room, players explained they feared for their safety, with Bangura saying he couldn't breathe because of fans jumping on him.
However, he understands their excitement surrounding their national team, and will join them in one particular event."There's going to be a big party tonight," Bangura said with a smile.