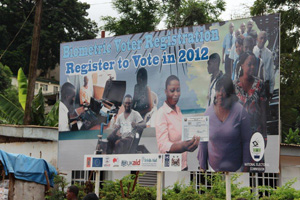 FREETOWN, 9 October 2012 (IRIN) – Sierra Leone's international partners and citizens are paying close attention to possible threats to peace ahead of presidential, parliamentary and local elections scheduled for 17 November, which it is hoped will consolidate stability a decade after the end of a civil war and lead to improved living standards.
Campaigns are intensifying, especially between historical rivals the ruling All People's Congress (APC) party and the Sierra Leone People's Party (SLPP), now in opposition. These are the country's third elections since the war was declared over.
"This is a watershed election. It's an election that will define Sierra Leone as an emerging democracy in this part of the world. If it is free, fair and transparent it will not only enhance our democratic credentials, but will demonstrate that we have stability," Sulaiman Banja Tejan-Sie, the SLPP secretary-general, told IRIN.
Tejan-Sie, however, accused President Ernest Bai Koroma's APC of focusing on building roads at the expense of improving the economy, and APC cadres of living opulently amid deep poverty. However, the APC's Agenda for Change plan (supported by the international community), which seeks to improve agriculture, energy and transport infrastructure and improve living standards, has brought modest progress.
"The main issue in these elections is the economy. They are talking about roads, but I want to wake up in the morning and see that my children have breakfast," said Tejan-Sie. "Even civil servants who are supposed to be the middle class find it difficult to survive."
While Sierra Leone has been stable and made progress over the past decade, poverty, unemployment and underdevelopment are widespread. It is ranked 180 out of 187 by the 2011 UN Humanitarian Development Index. Youth unemployment is high at 60 percent, and around 60 percent of its six million people live on less than US$1.25 a day.
The civil war erupted in 1991 when the Revolutionary United Front rebels of ex-army corporal Foday Sankoh took up arms against the government of then president Joseph Momoh. Tens of thousands of people were killed in a decade of brutal conflict.
Corruption
The police, judiciary and other public institutions are poorly staffed and inadequate, seen as lacking independence and corrupt. Transparency International's 2011 Corruption Perception Index says graft is prevalent.
"State institutions need to maintain their neutrality and independence. As has often been the case these institutions seem to be compromised by the executive," said Ibrahim Tommy, director of the Centre for Accountability and Rule of Law, a Sierra Leonean activist group.
With Sierra Leonean mineral wealth and the recent discovery of oil, the stakes are high in the November elections, argued Tommy. However, it is difficult to predict who between SLPP candidate Julius Maada Bio and Koroma will win and many observers say it will be a close contest.
Month-long campaigns officially begin on 15 October, but parties have already begun criss-crossing the country seeking support. Ten political parties are contesting the elections in which voters will for the first time choose a president, lawmakers, local councillors and mayors all on the same day throughout the country.
"Politicians come and go. What we want are independent institutions that will protect our democracy, improve our economy, infrastructure, access to good health services and fight corruption," said Francis Dumbuya, a student. "Our democracy is growing. This particular election is a bridge to a new level."
Traditional strongholds
APC and SLPP have traditional strongholds which have defined voting patterns. SLPP draws its main support from the southeast and APC from the northwest. The split has at times led to regional rivalry and bias in key government appointments, but observers say there is little indication that this would lead to ethnic violence.
The two parties have also dominated power since Sierra Leone's independence in 1961. APC has ruled for 29 years and SLPP 16. Military regimes allied to either party ruled for five years.
"I don't believe that any Sierra Leonean will have the desire to go back to the past and that violence is the solution," said Berhanemeskel Nega, deputy head of the UN Integrated Peacebuilding Office in Sierra Leone. "The success of these elections will be a reaffirmation that the country is moving in the right direction."
All the political parties on 18 May signed a deal to ensure peaceful elections and fairness, and refrain from violence. Tension is nonetheless expected to rise as campaigns kick off. The media are largely free, but openly partisan, running headlines and columns favouring one candidate, and disparaging his or her opponent.
Henry Sheku of the Human Rights Commission of Sierra Leone said that although the media have a regulatory body, the uncontrolled social media could be a source of chaos.
"Social media are very influential and difficult to regulate. If there is going to be violence then that is where it will start."