By Alhaji Jalloh, Information Attaché/ Public Affairs Unit
Sierra Leone Embassy,– Saudi Arabia,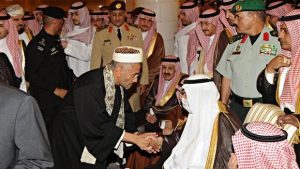 Sierra Leone joined hundreds of world leaders, diplomats and expatriates at the Saudi Foreign Ministry last Wednesday to offer its condolences to the Saudi royal family over the death of the Kingdom's second in command, Crown Prince Sultan.
Represented by Sierra Leone's accredited Ambassador to the Kingdom of Saudi Arabia and Permanent Representative to the Organization of Islamic Cooperation (OIC), Ambassador Wusu B. Munu on behalf of His Excellency Dr. Ernest Bai Koroma, the Government and people of Sierra Leone, and on his own personal behalf, conveyed to His Majesty the Custodian of the Two Holy Mosques, King Abdullah bin Abdul Aziz Al- Saud, the bereaved family, the Government and people of the Kingdom of Saudi Arabia, heartfelt sympathy for the irreparable loss.
"Our thoughts and prayers are with the Saudi people during this difficult time of mourning. The late man was an astute leader who worked assiduously for the progress and development of Saudi Arabia and for the good of mankind in general," the Ambassador wrote.
The late Crown Prince was Saudi Arabia's Deputy Premier and Minister of Defense and Aviation, Inspector General. He died in a New York hospital last Saturday.
Photo credit – Saudi Press Agency