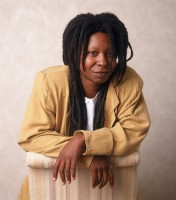 Oscar award winning actress Whoopi Goldberg has disclosed that she is planning a visit soon to Sierra Leone.
The 'Sarafina' star who recently discovered her DNA to the Kroo and Mende people of Sierra Leone said she is planning a 'home coming' soon.
Goldberg confirmed to SaloneJamboree in an exclusive interview that she discovered her DNA to Sierra Leone and she is ready to walk the footsteps of Isaiah Washington, another African American Hollywood actor who became the first African American to gain Sierra Leonean citizenship based on DNA.
Goldberg's interview with SaloneJamboree is the first for any Sierra Leonean media.
Commenting on her DNA discovery, she wrote to SaloneJamboree: "It's a wonderful thing to be able to pinpoint where your blood originates, so it means I know where home is."
Asked whether she is ready to follow the footsteps of Isaiah Washington, the popular actress said: "Again it's another part of the "who and where did I come from" puzzle. I think if one follows Isaiah's lead it can only help us all connect," she said.
On how she would use her new discovery to better the lives of Sierra Leoneans, Goldberg said: "Once I know more about my people… I can answer that."
Updating SaloneJamboree about her current projects, Goldberg said she just finished a documentary about a female comedian named Mom Mabley.
She said her current works also includes 'Teenage Mutant Ninja Turtles and 2 book to movies', 'Big Stone Gap,' and 'A Day Late and a Dollar Short.'
On her popular South African anti apartheid movie, 'Sarafina', Ms Goldberg said: "What makes 'Sarafina' different is no one knew this part of African history, and it felt needed, but it opened on the first day of the 1992 Riots in Los Angeles, so attention was not paid, "she said.She also has high regard for the South Africa`s first Black President,Nelson Mandela.
She said: "Nelson Mandela was a man true to his word, he united S.A.,and was able to forgive, and who doesn't want that?"
"Lastly, my words to the people of Sierra Leone… I will see you soon."