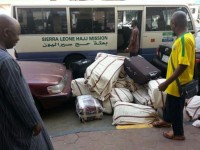 458 Sierra Leone pilgrims left the holy city of Mecca early Wednesday, 30th October 2013, for Medina, the city of the Prophet of Islam, that's according to Alhaji Sheka Kamara, Special Assistant to H.E the President on Social Affairs and currently the Acting Deputy Chairman of the Sierra Leone Hajj Team to Saudi.
This year, 920 Sierra Leoneans successfully performed the Hajj. The others, numbering over 450 are scheduled to leave tomorrow. They would spend a week in Medina to complete their Hajj rituals before they leave for Sierra Leone in the first week of November.
Last weekend, Sierra Leone's President Ernest Bai Koroma, made a surprising telephone call from the Federal Republic of Germany to the head of this year's Hajj team to Saudi, Moijueh Kaiakai, Social Welfare Minister and requested to talk to a cross-section of the Sierra Leone pilgrims himself to enquire about their general status.
The president spoke to over 50 pilgrims, including, some members of the medical team that accompanied the pilgrims, cooks, the elderly, the disabled, religious and traditional leaders, among many others.
It is indeed worthy to note that never before in the history of Sierra Leone, particularly what has to do with pilgrimage, has a president of Sierra Leone gone that extra mile to find out in person about the general welfare of his nationals in the holy land in the aftermath of their performance of the rituals of the fifth tenet of Islam-Hajj.
Since President Koroma's assumption of the highest office in the land in 2007, he has not only facilitated the Hajj process for Sierra Leone pilgrims, but has also manifested a keen interest in ensuring their general welfare and the correctness of their pilgrimage in every aspect.