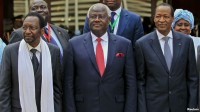 President Ernest Koroma of Sierra Leone on Saturday in Abuja cautioned western countries and the World Bank
against withholding aid to African countries over new laws banning homosexuality in some countries. Koroma spoke to newsmen in Abuja after commissioning a building project at the Sierra Leonean High Commission.
His remarks followed the World Bank's suspension of 90 million dollars loan to Uganda over its tough anti-gay law. Countries like Denmark and Norway had criticised the law, saying that they would redirect aid from the government to assist agencies.
Koroma, who was in Abuja to attend Nigeria's centenary said: "we have to ensure that the communities are sensitised well enough. It is not right for issues to be imposed lock, stalk and barrel from the international world.'' He added that laws on issues such as homosexuality should be left to the prevailing circumstances in individual countries.
"We have to take into consideration our culture, tradition, religious beliefs and all that. "I believe that on issues like this, like it is happening in other sensitive areas, time should be given to countries to engage,'' Koroma said.
The Sierra Leonean president called for "further engagements'' among African governments, western countries and donor agencies to resolve the differences on the issue of homosexuality. He, however, warned that such engagements must respect the "consensus'' of the African people.
"I believe with engagement with our communities, sensitisation and other public awareness programmes, we will get at a consensus. "When a country arrives at a consensus, I think the country should be led by what it believes is right for the country and not what is necessarily right for the international community because of the variations in our traditions.''