Sierra Leone, the country some of us are dying for is gradually reversing back to the gloomy years. Even amid the ongoing Ebola outbreak when all flights to Sierra Leone, Guinea and Liberia were permanently grounded, some of us still had the courage and felt obliged to go home from the Diasporas where we have found safe heaven over the years after fleeing from the wrath and stinky excesses of our greedy politicians. Most pathetically, majority of my compatriots at the diaspora seemed to be still blindfolded by the dirty sponge of tribalism, selfish and greed as they continue to support the illmotivated politicians at home based on their tribes and places of origin.
How can I believe that there are ongoing demonstrations simultaneously organized by Sierra Leoneans across the western world, particularly in the UK and United States of America, some for and some against President Ernest Bai Koroma's administration? When I carefully looked at the demonstrators, I could only spot the infamous colours of our own generation: Green and Red which signifies the notorious political parties in Sierra Leone, APC and SLPP.
Meanwhile, I have a few questions for the demonstrator:
SLPP (GREEN):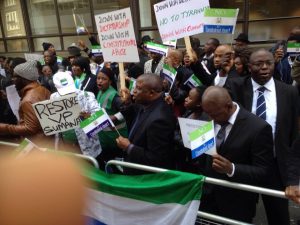 What do you want to achieve by demonstrating in front of the White House in favour of a Vice President that was never elected by you and never represented your interest? Have you forgotten the fact that it was the same White House that supported a regime change strategy in the year 2007 when your own party was in power? Is the Vice President's expulsion from APC and consequent removal from office the only unconstitutional decision ever taken by president Koroma's administration? What about announcing himself the winner of last elections while votes were still being counted in remote polling stations? What about throwing out of court all cases filed against him in wake of the past elections? What about the massive sacking of countless citizens based on their tribes and party affiliations, and promoting corrupt individuals such as Richard Conteh, Hafsatu Kabbah etc? What did you do when the same Vice President was reappointed as running mate to President Koroma after he was caught in the web of timbergates? Knowing fully well that Victor Foh was ineligible to hold a public office, what did you do when he was appointed Ambassador representing Sierra Leone in China?
If President Koroma's actions were unconstitutional, what have all your supporters and party executives at home done against the motion?
Have you realised now that your intraparty disunity is the major secret behind President Koroma's success in taking a free ride with the national constitution? So beside the demonstrations, can you please tell us when are you going to reorganize yourself and speak with one voice like a serious opposition?
APC (RED):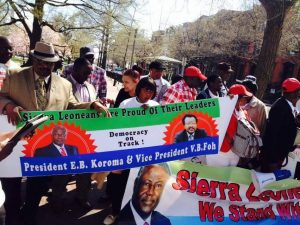 1) what else do you want by demonstrating in support of a decision that has already been reached by your party and president? Special inauguration ceremony for Victor Foh? When are you going to demonstrate in support of those who squandered the Ebola funds? When are you going to demonstrate in support of the continues closure of schools and colleges? When are you going to demonstrate in support of more hike in prices of basic commodities in Sierra Leon? When are you going to demonstrate in support of more blackout and shortage of water in Sierra Leone? When are you going to demonstrate in support of more youth unemployment in Sierra Leone? When are you going to demonstrate in support of president Koroma's third term?
Please let me know, I would like to join you…