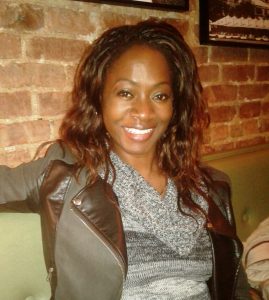 Despite the heavy rain, Sierra Leonean soul queen Azania braved the wet and cold weather last Tuesday just to keep a scheduled interview appointment at Lido Restaurant in the heart of Harlem in New York City.  Many other artists would have simply cancelled the interview due to bad weather.   But not Azania who fully understands the true value and power of publicity for artists, musicians and entertainers.  During our conversation, She updated her career status relative to the past two years that she has lived and worked in Geneva, Switzerland. And her plans for 2017 among other things
She started the conversation by acknowledging the purpose of her visit in New York
A: I am here from Geneva, Switzerland for few weeks for the holidays
D:  When did you come into town?
A: I got into town on Christmas Eve to spend Christmas with my brother who lives here in New York.
D: And how long will you be in town for?
A: Just until January 11th and then I go back to Switzerland
D: You used to be based in Harlem, New York City but for the past 2 years or so you have been in Europe, Switzerland.  Tell us more about that move.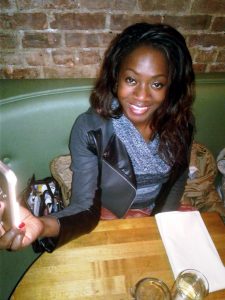 A:  Well I consider myself still based in Harlem.  My apartment is here and I'm always happy to come back home.  My family also lives in this state and so I always feel like New York is my home. Thanks to being on the Voice Friends that's what really brought me back to Europe.  I lived in Europe half of my life but I had come to live in New York in 2011.  In 2014, I actually auditioned for the 'Voice Friends' and got accepted and that actually kept me over there since then really because that exposure that I got from the 9 million TV viewers opened a lot of doors for me.  And sort of re-launched my singing career in Europe so that what has kept me there for the past two years.
D: I thought it was 'Africa Now' show at the Apollo Theatre; it was after that show that your musical career blew up, making strides right?
A: Absolutely, it was after that actually that I went to perform in Dubai for a big luxury event and then soon after that I started auditioning for the Voice Friends and I was accepted
D: What is the Voice?
A: So the show is a TV show, a TV contest that is very, very big around the world they have the Voice in the United States of America as well.  There are about 12 million viewers in the USA edition.  I believe right now Alicia Keys is a judge, they've had several just really big, big singers to be the judges of the show in the United States and it is just the same thing in France.  It is just that in France the judges are well known French artists and so it was just such a wonderful experience for me to be a part of, to be surrounded by wonderful singers that are also very passionate about what they're doing and to also get that exposure again.  I'm really proud of all my performances on the show.  I put all the videos up on my website so people can see if they missed it.
D: What is life been like for you in Switzerland after two years that you have lived there?  I noticed that you have been getting a lot of gigs singing for weddings.  Tell us about that experience.
Azania: Ya, so I don't only sing for public events but I also sing for private events and so some of my time is shared not on stages really but performing for not only weddings but also corporate events and a lot of galas and industry fares as well.  So it just depends on the companies and what they would like but I have done quite a lot of private events well over the past two years really.  And now that I have finished the Voice, the Voice basically in France it is broadcasted on a channel that is the equivalent of NBC here.  So it got such a great reputation and it's on Saturday nights, so a lot of corporate event came from it.  I'm now considered a media personality because I was on that show.  And because I lived in Switzerland for so many years, they identify with me and me being on the French show, thanks to that as well.
D:  You recently performed with the legendary Cameroonian Manu Dibango, what was that experience like?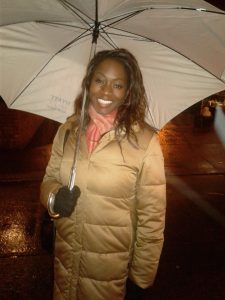 Azania:  We were part of the same festival which was called the 'Festival Couleur Café' in Geneva, Switzerland.  I didn't actually know that hall before but it was such a beautiful, beautiful hall called the Alhambra in the old section of Geneva.  And it is completely renovated hall, it is sort of like just got those plush red velvet seats and beautiful acoustics and just a great ambience from the crowd as well.  I got such wonderful feedback from everyone there.  It is a great celebration for African music as a whole so there are people from different countries and it was an honor to be on the same bill as Manu Dibango for sure for me
D: So we are now in a brand new year, 2017 will Azania continues to live and work in Switzerland, Europe or do you plan to return to your base in Harlem, New York City?
Azania:  I am planning on staying international however, my base will most likely always be New York I'm not gonna say forever, I'm not going to say for sure one hundred percent.  But For now I will see more of New York this year than the previous two years for sure.  I'm working on projects here and I just really, really would love to reconnect and spend more time with my family as well.  So I've been missing them while I have been abroad.  It is wonderful to be abroad but my parents and my brother are here so that's another reason why I will be back
D: Are there any concert dates for Azania in the Big Apple (New York)?
Azania: I'm definitely looking forward to performing in New York this year, I don't have any specific dates yet but I am going to make that happen this year for sure
D: And will you be spending more time in New York City than Geneva, Switzerland?
Azania:  I don't know about more time than Switzerland but at least equal time.
D: If fans or ordinary people want to know the latest about Azania or want your music, how can they contact you?
Azania: They can contact me at my official website, Azania.com.  Thank you Dennis!
Azania left New York City for Geneva on Wednesday.